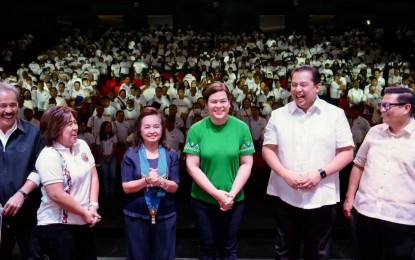 MANILA – Vice President Sara Duterte on Friday urged local leaders to uphold integrity and practice unity to realize true public service, as her political party Lakas-Christian Muslim Democrats (CMD) continues to expand.

In a speech, Duterte said membership in the Lakas-CMD entails the burden of public service and accountability.

"Today, we are reminded of our noble duty to uphold the highest degree of integrity and accountability in all our public pursuits. By accepting to become a member of a political party, we also accept the challenge to work in unity towards a common goal -the welfare of the people we serve," she said.

Duterte made the statement during the joint Davao de Oro and Davao del Norte Lakas-CMD mass oathtaking at the Tagum City Historical and Cultural Center.

She reiterated that unity in leadership, down to local governance, would mean warm recognition and development in the country despite diversity across cultures and ideologies.

"With a united political party, we can navigate the path to inclusive growth, and espouse good governance that sees beyond political colors and principles," she added.

Duterte also recalled the administration's eight-point economic agenda to point the targeted direction for the country within its six-year term.
Partnership with IBP
Meanwhile, Duterte expressed her gratitude to Supreme Court justices for giving her advice on a possible partnership between the Department of Education (DepEd) and the Integrated Bar of the Philippines (IBP).

In another speech during the 50th founding anniversary of the IBP, Duterte, being the concurrent education chief, said she considers their advice to aid educators in legal matters.

"I sought their advice on how to help our public school teachers with regard to their loan obligations," she said. "They gave me good advice and I am looking forward to partnering with the Integrated Bar of the Philippines to help our public school teachers with regard to their problems sa mga utang nila at sa mga kontrata nila (in their loans and contracts)."
Besides legal assistance, Duterte assured the DepEd is doubling its efforts to address the concerns of teachers.
These include the review and updating of the Magna Carta for Public School Teachers with the aid of legislators, the provision of free medical check-ups through a partnership with the Department of Health (DOH), and addressing concerns of teachers for their insurance and benefits through coordination with the Government Service Insurance System (GSIS), among others.
The DepEd also vowed to hire teaching and non-teaching personnel to drop unnecessary loads of teachers, particularly their administrative tasks. (PNA)