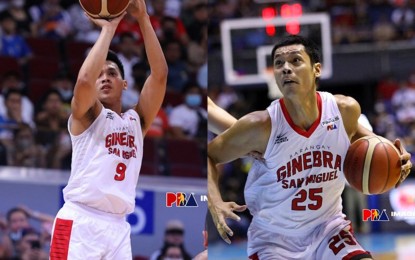 MANILA – Ginebra stars Japeth Aguilar and Scottie Thompson have been named captains for their respective teams in the PBA All-Star Game as they emerged as the top vote-getters at the end of the All-Star balloting on Wednesday.
Japeth Aguilar ended up as number one with 1,239,665 votes, while Scottie Thompson is second with 1,217,226.
As skippers, both Aguilar and Thompson will draft among the other 22 players who made the cut and who among Gin King Tim Cone and Rain Or Shine Elasto Painter Yeng Guiao will coach their respective teams for the March 12 exhibition game in Passi.
San Miguel's June Mar Fajardo, who was on top of the race during the first return, finished number three with 1,207,592 votes, while Ginebra's Jamie Malonzo (fourth with 1,196,423) and Christian Standhardinger (fifth with 1,191,379) round up the Top 5.
Rain Or Shine's James Yap made a late jump in the balloting and finished in sixth place with 1,190,624 votes, while Ginebra's LA Tenorio (seventh with 1,189,717) and Stanley Pringle (10th with 1,181,724) and Magnolia's Calvin Abueva (eighth with 1,188,589) and Mark Barroca (ninth with 1,184,644) made the Top 10.
The other All-Stars for 2023 are Beermen CJ Perez, Terrence Romeo, and Marcio Lassiter, Hotshot Paul Lee, TNT Tropang Giga's Jayson Castro, RR Pogoy, and Mikey Williams, Elasto Painter Gian Mamuyac, the top vote-getter among rookies, Gin Kings Jeremiah Gray and John Pinto, NorthPort Batang Pier's Robert Bolick and Arvin Tolentino, NLEX Road Warrior Kevin Alas, and Meralco Bolt Chris Newsome.
Bubbling under are ROS's Gabe Norwood, NorthPort's Jeff Chan, TNT's Calvin Oftana, and Magnolia's Jio Jalalon, but they have been named as reserves for the All-Star Game should someone from the Top 24 is not available due to an injury.
Cone is the top vote-getter among coaches with 1,291,785 votes, while Guiao is second with 1,231,538.
Meanwhile, Oftana will have some taste of All-Star experience of his own anyway as he and Elasto Painter Shaun Ildefonso topped the voting for the Rookies-Sophomores-Juniors Game.
The son of PBA legend Danny Ildefonso is number one with 1,190,719 votes, while Oftana is a close second with 1,190,448.
The other participants in the RSJ Game are Phoenix's Tyler Tio and Encho Serrano, Meralco's Aaron Black, Converge's Justin Arana and Jerrick Balanza, Magnolia's Jerrick Ahanmisi, Aris Dionisio, and Adrian Wong, twin brothers Matt and Mike Nieto of NLEX and ROS, respectively, NLEX's Brandon Rosser, Blackwater's RK Ilagan and Ato Ular, SMB's Allyn Bulanadi, Terrafirma's Isaac Go and Javi Gomez De Liaño, ROS's Anton Asistio, and NorthPort's Joshua Munzon.
FiberXers Alec Stockton and Aljun Melecio, Elasto Painter Andrei Caracut, and Batang Pier Kent Salado have been named as reserves for the Rising Stars Game.
The PBA All-Star Draft is set for Monday night. (PNA)