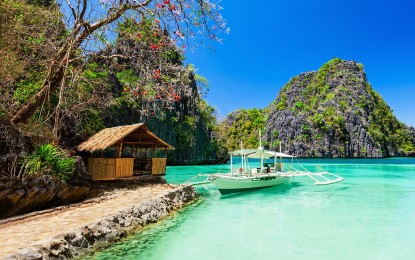 ROXAS, PALAWAN – Department of Tourism (DOT) Secretary Christina Garcia Frasco on Friday led the groundbreaking ceremony for the 10th Tourist Rest Area (TRA) in Palawan, which aims to enhance the overall tourist experience of both foreign and local visitors.
The TRA, a flagship project of the DOT, is a convergence point that could be approached by foreign and local travelers to get information on tourism sites and attractions, activities, and accommodations; report concerns related to safety and security; and gain access to other provisions necessary during their stay at a destination, such as a clean restroom.
It will also have charging stations and a "pasalubong" center that would help boost the livelihood of micro, small, and medium enterprises.
According to a press release, Frasco was joined by Tourism Infrastructure and Enterprise Zone Authority (TIEZA) Chief Operating Officer Mark Lapid and Roxas Mayor Dennis Sabando during the ceremony.
Lapid and Sabando signed a memorandum of agreement (MOA) to build the new tourist facility, which will rise in between El Nido, Coron, and San Vicente, considered the tourist magnets of the province where the bulk of its tourist arrivals come from.
"We have broken the ground on this tourist rest area in Palawan, particularly in Roxas. This is well-situated in between other LGUs (local government units) in Palawan for the purpose of ensuring that we fulfill one of the objectives of the President (Ferdinand R. Marcos Jr.) and that is to enhance the overall tourism experience," Frasco said in a speech, citing that collaboration is essential for the recovery of the sector.
"Having been a local chief executive, we aim to strengthen tourism governance through close collaboration with our national government, our local government officials, as well as public and private stakeholders. Tourism is not a one-man job. It is only by our collaboration between each other that we would be able to rise back in the industry stronger than ever."
Meanwhile, Sabando thanked the DOT for choosing Roxas as one of the recipients of the tourist pit stop.
"Ito po ay napakalaking tulong sa ating Bayan ng Roxas kaya ako po ay nagpapasalamat sa inyo (This is a big help to our town, that is why I am thankful to you)," he said.
Based on the MOA, the DOT through the TIEZA, would fund the TRA, while the LGU of Roxas would be responsible for its operation and maintenance.
Frasco said the DOT, through its regional office, would actively monitor the TRA and offer incentives to the LGU if found compliant with the criteria set by the tourism department.
Considered an emerging tourist destination, Roxas prides itself on Banwa Private Island, Modessa Island Resort, Bat Sanctuary in Pagbo Island, Purao Island Beach, Kilala Campsite, New Rizal Waterfalls, Isla Kurabo, Willano's River, Kariyana's Field Madles Sandbar, Maoyao Sandbar, Johnson Sandbar, Alibanwa Falls, Cayasan Falls, Barbican River, Magara Garden, Mahogany Aisle, and Malatgao Falls.
Former Palawan governor, now 2nd District Rep. Jose Alvarez, who witnessed the signing event, said the province's goal is to achieve 5 million tourist arrivals, surpassing its pre-pandemic figures of 2.3 million.
"Let's work together to achieve that 5 million (tourist arrivals). I will do my best together with our colleagues in Congress to increase the budget of tourism," he said.
"Alam ko hindi po dito matatapos ang pagtulong ninyo. Magtutuloy-tuloy po ang pagdevelop ng ating lugar (I know the DOT's support would not end here. Palawan's development would continue)," 1st District Rep. Edgardo Salvame added.
Frasco underscored the "strength of domestic tourism to support the local economy," noting that the DOT is pushing for aggressive initiatives to further grow domestic tourism.
"How are we going to do that? That is through close coordination with our mayors, our governors, our district representatives, recognizing that none of these plans and policies will work without the help, the coordination, and collaboration of our local officials," she said.
"Therefore, gagawa po tayo ng cross-province tourism circuits kung saan yung ating mga well-known provinces, we will link them up sa mga lesser-known provinces to ensure na 'yung ating mga turista (We will create cross-province tourism circuits wherein we will link well-known provinces to lesser-known provinces to ensure that our tourists) will get to know other parts of the country as well."
She said it is no longer the department's goal to bring the tourism numbers back to pre-pandemic levels.
"But we are very interested in exceeding those numbers to finally allow the Philippines to take on a primary role in ASEAN and the world because we deserve nothing less," Frasco said.
Known as the Philippines' last ecological frontier, Palawan has been accorded with numerous global awards, from the 8th Top Islands in Asia" to "Most Desirable Island" in the Wanderlust Travel Awards, to "one of the 40 destinations on its Go List for 2023." (PNA)