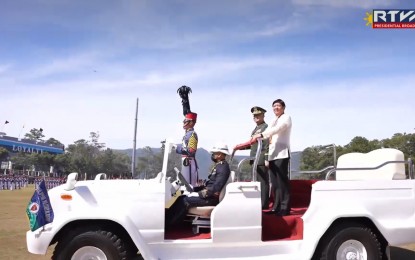 MANILA – President Ferdinand R. Marcos Jr. on Saturday reassured Filipinos that the Philippines will not relinquish even an inch of its territory to any foreign power.
Marcos made the remark when he attended this year's Philippine Military Academy (PMA) alumni homecoming for the first time as the commander-in-chief of the Armed Forces of the Philippines (AFP).
In a keynote speech delivered at the PMA Grandstand in Fort del Pilar, Baguio City, Marcos said his administration would continue protecting the country's territorial integrity and sovereignty amid the "heightened" geopolitical tensions.
"The country has seen heightened geopolitical tensions that do not conform to our ideals of peace and threaten the security and stability of the country, of the region, and of the world," he said. "This country will not lose one inch of its territory. We will continue to uphold our territorial integrity and sovereignty in accordance with our Constitution and with international law."
Preserving security, safety
Marcos, an adopted member of PMA Class of 1979, enjoined the alumni of the academy to continue protecting the security and safety of the country.
He urged them to lead a "life of service beyond self," whether they are working in government or the private sector.
"I am aware that some of you have continued your service in the private sector, while others have remained in government. And I hope in whatever capacity you serve, you continue to lead a life of service beyond self – an ethos we can attribute to a premier institution such as the Philippine Military Academy," he said.
The President also acknowledged that the PMA, since its inception in 1936, has produced "selfless individuals who have offered their lives to defend this country and preserve the democratic ideals and freedoms that we all enjoy today."
To honor those who sacrificed their lives for the country, Marcos called on the alumni to exemplify "integrity, service before self, and professionalism," the ideals and values they have gained from the academy.
"I am filled with gratitude, as is the nation, for your contributions to the collective effort to build our beloved Philippines. In honor of those who have sacrificed their lives to build this path for us, we will continue to develop this country and aspire for better lives for our people," he said. "Rest assured that this government, together with the Filipino people, are with you as we march forward towards achieving a safer, more peaceful, more progressive Philippines."
Marcos also expressed hope that his year's awardees would be emulated for their "exemplary work" and would "ignite a desire for service" in young PMA cadets to inspire them to become "leaders of character."
Working with int'l community
Marcos noted that while the current operating environment is "uncertain and grows increasingly complex," his administration has been exhausting all efforts to steer the country to a "high-growth trajectory."
He said the government would maintain good relations with the international community for the country to attain "prosperity."
"As we continue to develop our internal resources, we must pursue a path of prosperity that contributes to goals shared with the international community," he said.
"We have cemented our bilateral relations with our allies, with partners, with our friends. And as we work on translating these investments into material benefits for our people, we must ensure that we continue to preserve the security and the safety of our nation." (PNA)