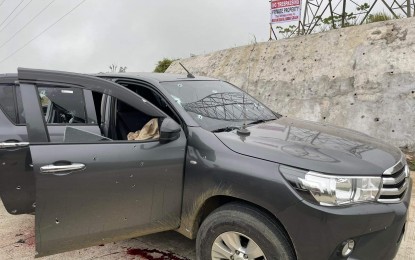 CAGAYAN DE ORO CITY – Vice president Sara Duterte-Carpio on Saturday condemned the ambush of Lanao del Sur Gov. Mamintal Alonto-Adiong Jr. as Police Regional Office in the Bangsamoro Region (PRO-BAR) launched a task force to identify the gunmen.
"As a nation, we should collectively reject this cowardly act of violence and demand that the perpetrators are immediately brought to justice," she said in a statement.
Duterte also extended condolences to the families of the security escorts who died in the ambush. Adiong and a member of his staff Ali Macapado Tabao were wounded in the attack on Friday.
Adiong is the Lakas-Christian Muslim Democrats' vice president for the Bangsamoro Autonomous Region in Muslim Mindanao, where Duterte currently sits as chairperson for the party at the national level.
Lanao del Sur 1st District Rep. Ziaur-Rahman Alonto-Adiong said his elder brother is in stable condition, even as he thanked the public for "their prayers and support to Gov. Adiong and to the family during this difficult time."
"Through the grace of Allah (SWT), Gov. Bombit is in stable condition. The worst has passed. He's out of danger, Inshaa Allah (God willing)," he said.
According to an initial police report, Adiong's convoy was about to go to Wao, Lanao del Sur when unidentified gunmen ambushed their vehicles in Barangay Bato Bato, Maguing, Lanao del Sur.
Adiong was initially brought to a nearby hospital in Kalilangan, Bukidnon and later transferred to a hospital in this city.
Rep. Adiong said they were heartbroken over the deaths of members of the security detail, all of whom are family members and relatives.
The police escorts were identified as Juraiz Adiong, Aga Sumandar and Jalil Cosain, while one of the drivers, Hassanor Pundaodaya, was also killed during the incident.
"We implore the authorities to act with urgency and utilize all legal means available to pursue and bring the perpetrators to justice. This condemnable act must not be taken lightly," Rep. Adiong said.
Meanwhile, Department of the Interior and Local Government (DILG) Sec. Benjamin Abalos Jr. directed the Philippine National Police (PNP) to conduct manhunt operations against the suspects behind the ambush.
"While Gov. Bombit (Adiong) survived, his companions in the incident died, and we offer our condolences to the bereaved families and you can be assured our police will not stop until the suspects will be apprehended and jailed," he said in a statement.
Abalos also ordered the PNP to closely coordinate with the military units on the ground in hunting down the suspects and finding out the motive behind the incident.
The PRO-BAR has launched an investigation led by Col. Robert Daculan of the Lanao del Sur Provincial Police Office.
"A Special Investigation Task Group (SITG) is already created by the Police Regional Office of the Bangsamoro Autonomous Region to focus on the probe into the incident, conduct an in-depth investigation for speedy identification and arrest of the suspects, and immediately file the necessary case in the court," PRO-BAR said in a statement. (PNA)