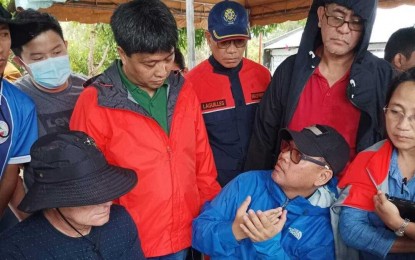 LEGAZPI CITY – At least 218 personnel, 34 vehicles, 11 drones and four K9 dogs were deployed to Barangays Anoling and Quirangay in Camalig, Albay to beef up the search and rescue efforts for a missing Cessna aircraft and its two pilots and two Australian passengers.
The Cessna 340 RP-C2080 went missing shortly after it took off from the Bicol International Airport at 6:45 a.m. on Saturday.
In a statement on Sunday, Camalig Mayor Carlos Irwin Baldo Jr. said the Team Camalig Rescue Group joined the operations starting at 5 a.m.
"The search and rescue group will be scattered into four teams composed of personnel under the Municipal Disaster Risk Reduction & Management Office, Philippine National Police, Bureau of Fire Protection and Energy Development Corporation BacMan (EDC Bacon-Manito) to maximize the coverage of the operations," Baldo said.
Medical teams from the Municipal Health Office and other responders from the Civil Aviation Authority of the Philippines, Albay Public Safety and Emergency Management Office, Guinobatan local government and Philippine Army would also be deployed on the ground, he said.
Apart from the current manpower, the group is set to utilize drones with thermal cameras and search and rescue dogs.
"The aircraft was piloted by Capt. Rufino James Crisostomo Jr. and Joel Martin with passengers Simon Chipperfield and Karthi Santanan, both Australian citizens and technical consultants of EDC. The company has already informed their respective families and is constantly in touch with them," the EDC said in a statement issued on Sunday.
The EDC emergency response teams from its Bacon-Manito geothermal facility in Bicol and from its Leyte, Negros, and Mount Apo units are working in full force.
"Our primary concern is the swift and safe rescue of our four colleagues who were onboard the aircraft. We are thankful to Mayor Baldo for mobilizing his team to help us do this," said Allan Barcena, assistant vice president and head of corporate relations and communications of EDC.
Two choppers will likewise be on standby for reinforcement. (PNA)