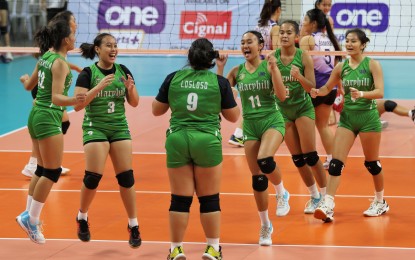 MANILA – Maryhill College of Lucena City (Quezon) outclassed New Gen Volleyball Club of Santa Cruz (Laguna), 25-8, 25-10, to post its second win in Pool A of the Philippine National Volleyball Federation (PNVF) Under-18 Championships girls' division at Rizal Memorial Coliseum in Manila on Sunday.
Maryhill College defeated Junction Youth Organization (JYO) of Los Baños (Laguna), 25-14, 25-20, to open its bid on Saturday .
"Everybody struggled and adjusted in our first game Saturday, but we performed better today [Sunday]," said Joannes Rey Supnit, Maryhill College coach.
Meanwhile, Angeles City downed Nagcarlan, Laguna, 25-18, 15-25, 25-23, in Pool B.
In Pool C, California Precision Sports of Antipolo City beat Santa Rosa City (SRC), 25-10, 25-19.
Santa Rosa City prevailed over Marikina Titans Volleyball Club, 25-11, 25-15, on Saturday.
In Pool D, Volida Volleyball Club downed Ateneo de Manila University, 25-18, 25-18, for its second consecutive victory in Pool D, following its 25-22, 25-14 win over Hiraya on Friday.
In the other match, Bethel Academy beat Ateneo de Manila, 25-14, 25-11.
In the boys' division, Justice CM Palma High School outplayed Team Makati, 23-25, 25-13, 25-22, and SRC outsteadied Makati City, 27-25, 25-20, in Pool A.
Other winners were MNHS-Antipolo City over Philippine Christian University, 25-16, 25-12 (Pool B); Hermosa Volleyball Club over Parañaque City High School, 25-18, 25-16 (Pool C); and Nagcarlan, Laguna over Queen Anne School (Quezon City), 25-19, 18-25, 26-24, and Queen Anne School over JYO, 25-10, 25-10 (Pool D). (PNA)