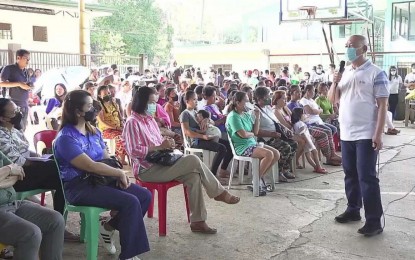 CAGAYAN DE ORO CITY – Curbing teenage pregnancies will remain one of the priorities this year of the local government unit (LGU), the local chief executive said Monday.
During a visit to Bayanga village, Mayor Rolando Uy said bringing awareness and education in the communities is part of the city government's advocacy in helping teenagers avoid being parents at an early age.
"There is a greater concern about teenage pregnancy when it comes not only to matters of the family but for the local government and the society in general," he said.
Uy said the City Health Office (CHO) is leading the formulation of programs that would raise awareness of the effects of unplanned pregnancies, especially among teenagers.
CHO chief Dr. Rachel Dilla said the LGU's concern was prompted after data from government agencies showed that the city has the second-highest incidents of teenage pregnancies in the region, next to Bukidnon.
"After presenting this to the mayor, he immediately wanted to reach out to the parents and talk to them directly," Dilla said.
Dilla said most of the cases of pregnant teens in the city are reported as "not ready" for the responsibility of rearing a child. "This is where parents come in, especially the mothers, to guide their children," she said.
Last week, the LGU partnered with the Philippine Population Commission and Development in Northern Mindanao in launching the Adolescent Health and Development Program.
The program forms part of the CHO's community improvement division in undertaking the monitoring and evaluation activity for the social protection program for adolescent mothers and their children.
The program initially has 50 beneficiaries as of June 2022, and the city was chosen as one of the pilot areas of the Philippine Commission on Population's information and service delivery network for adolescent health and development. (PNA)