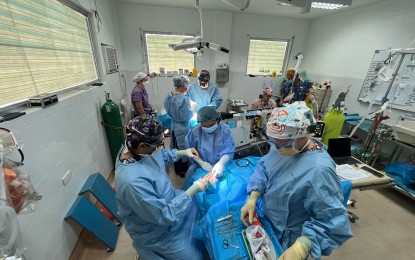 CITY OF CALAPAN, Oriental Mindoro – A team of Australian volunteer doctors and nurses concluded over the weekend a six-day free surgical mission to repair cleft lip and cleft palate, mostly of children from the underprivileged sector in this province.
The Helping Children Smile (HCS) Inc., consisting of 13 volunteer surgeons, anesthesiologists and nurses conducted the mission from Feb. 13-18 at the Oriental Mindoro Southern District Hospital, benefiting a total of 20 individuals.
The beneficiaries underwent screening prior to their surgery.
The team endured a two-day trip from Sunshine Coast, Queensland to Mindoro Island, 187 kilometers away from the Philippines' capital, Manila.
"We traveled some 7,575 kilometers. It's been a long three years and we have missed our friends in the Philippines," said Tracey Madden, a nurse and mission head of HCS, in an earlier post on her social media.
"We feel that we are the blessed and privileged ones to come and help these beautiful children and their families. With the Masons and the provincial health office, we had the opportunity to change 20 lives (under 24 operations) together," she added.
HCS, a voluntary organization, has helped restore the smiles of over 1,000 children with cleft lip and cleft palate since their first international medical mission in 1996.
In previous years, the group served mostly poor Filipino children in Zambales (2019); Ilocos Sur (2018); Pangasinan (2017); Cagayan (2016); Laguna (2015); Legazpi (2014); Metro Manila (2013); Bulacan (2012); Quezon (2011) and Tarlac (2010).
HCS suspended the missions in 2020 due to the Covid-19 pandemic.
Bioz Suzara, a local supporter of the mission, was emotional during the mission. "Truly heart-warming. Seeing a child after hours of operation. God's amazing gift to these families through this good-hearted team," he said in an interview on Sunday.
"Twenty patients benefited – three from Odiongan (in Romblon in the next island province), one in Occidental Mindoro and the rest from Oriental Mindoro," said Jeffrey Gregorio, worship master of Halcon Masonic Lodge No. 249 in Roxas town, Oriental Mindoro.
Their fraternal brother in Malolos City, Bulacan, Dr. Rommel Cruz, referred HCS to them, Gregorio said in a separate interview.
The team is responsible for pre-operative assessment, preparation and intra-operative care, as well as post-operative care, including wound management.
They have local partners from both government and non-government groups.
HCS relies on proceeds from fundraising activities and donations to cover travel costs, accommodation and surgical equipment.
Team members voluntarily give their time and expertise. (PNA)