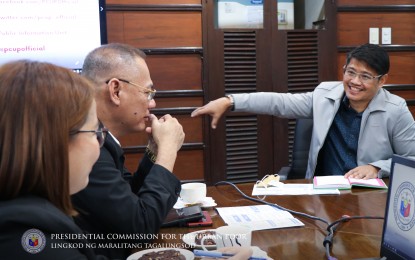 MANILA – The Presidential Commission for the Urban Poor (PCUP) and Commission on Population and Development (POPCOM) are collaborating to push for stronger reproductive health programs that aim to uplift the lives of the poor.
PCUP Chairperson and Chief Executive Officer, Undersecretary Elpidio R. Jordan Jr., and POPCOM officer-in-charge Executive Director Lolito Tacardon met at the PCUP central office in Mandaluyong on Feb. 15 to discuss ways to cooperate to beef up PCUP's banner programs.
Jordan recognized POPCOM's role in supporting the efforts of the Philippine government to promote responsible parenthood and sexual and reproductive health and rights.
"We acknowledge the continuous support of the POPCOM with some of PCUP activities like our caravans and capability building programs that focused on gender and development and family planning to foster gender equality, sustainable population growth, poverty reduction and economic development among urban poor communities and families and the PCUP is looking forward to more of this," he said in a news release on Monday.
He described the POPCOM as PCUP's "partner for change."
"We would like to continue this partnership for the benefit of the urban poor in the country in terms of upholding the Filipinos' reproductive health rights, gender and development, as well as defining responsible parenthood and family planning," he added.
Tacardon, for his part, pledged commitment to support the various programs and services of the PCUP as part of the POPCOM's efforts to further strengthen the implementation of its programs and strategies in relation to the population to achieve socio economic development.
The RPRH law, he said, enabled the enhanced partnership between the national and local governments by opening opportunities for implementing related reproductive health policies and programs at the grassroots level.
PCUP's move to secure a partnership with the POPCOM is in support of Republic Act 10354, otherwise known as the Responsible Parenthood and Reproductive Health (RPRH) Law of 2012, which provided universal access to methods on contraception and fertility control.
RA 10354 "recognizes and guarantees the human rights of all persons including their right to equality and nondiscrimination of these rights, the right to sustainable human development, the right to health which includes reproductive health, the right to education and information, and the right to choose and make decisions for themselves in accordance with their religious convictions, ethics, cultural beliefs, and the demands of responsible parenthood."
Data from the Philippine Statistics Authority (PSA) showed that between 2016 and 2020, registered births to adolescent mothers aged 10 years to 14 years increased by 11 percent, from 1,903 in 2016 to 2,113, or 0.14 percent of all registered births in 2020.
The PSA said 6 to 7 percent of babies born to adolescent mothers from 2016 to 2020 were fathered by men 10 years older than them, while a majority of teen moms' male sexual partners were three to five years older than them. (PNA)