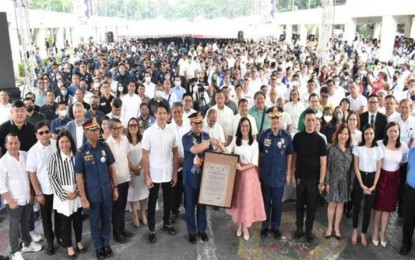 MANILA – The Philippine National Police (PNP), the Quezon City government and representatives from the religious sector on Monday signed a memorandum of understanding (MOU) to strengthen the enforcement of the police force's "Kasimbayanan" (Kapulisan, Simbahan, at Pamayanan) campaign.
PNP chief, Gen. Rodolfo Azurin Jr., Mayor Joy Belmonte and Pastor Oliver Lee signed the pact and led the pledge of commitment for the campaign before local officials and members of religious groups in simple rites at the Quezon City Hall.
Azurin said the revitalized 'Kasimbayanan' program aims to tap volunteers and church leaders to help bridge the gap between the community and the police force.
The drive also seeks to organize the community as peace advocates and to ensure that every citizen is law-abiding through spiritual guidance from church leaders, he said.
"This will be our show window in our community program where our objective here is to reduce crime here in Quezon City, we will reduce the demand for drugs and we will continue to suppress the crimes that are happening here, especially the proliferation of illegal drugs and this is a huge help to us in the police force. Quezon City was the first to invite us here to the launching and signing of a memorandum of agreement. They are including the Kasimbayanan program in their budget so this is what we see -- the seriousness of the government of Quezon City and how they really want to have the city become one of the most progressive cities in our country today," Azurin told reporters.
Under the MOU, the PNP and church leaders will work together in promoting peace and order, particularly in addressing crime, drug abuse, and other social problems in the community.
The agreement also aims to strengthen the partnership between the PNP and local government units in Quezon City, particularly in terms of providing better public safety services to the people.
"When our city is perceived to be peaceful and disciplined, definitely investors will come and put-up companies and it would mean job opportunities for the people of Quezon City and it affects the economy of Quezon City. That is the direction that we want to take - a progressive and developed Quezon City, not just for the people of the city but for all the Filipinos," Azurin added.
Quezon City Police District (QCPD) director Brig. Gen. Nicolas Torre III thanked Azurin for gracing the activity.
"This program aims to strengthen the relationship of the PNP with the community and bring awareness of shared responsibility in contributing peace, order, and progress and even holistic transformation of the society," Torre said.
Belmonte, meanwhile, said she believes that it is really necessary for the church, the community and the police to unite in order to suppress the problem of drug addiction, among many other crimes.
"We recognize the vital role of our religious leaders in promoting peace and unity in our community. Through this partnership, we can leverage the strength and resources of different sectors to ensure the safety and security of our people here in Quezon City. The Quezon City government is in solidarity with the goal of our PNP in strengthening the Kasimbayanan program and of course, our Church is also with us. We are ready to help to strengthen the interaction of the police, barangay and church," Belmonte said. (PNA)