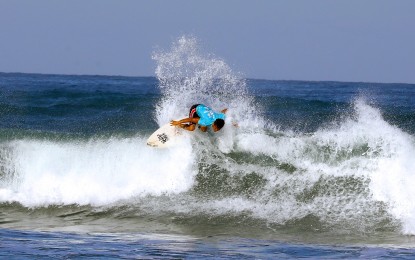 MANILA – Filipino ace surfer Rogelio "JayR" Esquivel Jr. on Monday received praises and a warm welcome from Speaker Martin Romualdez after emerging as champion in a longboard surfing competition in La Union province.
Romualdez lauded Esquivel for bringing pride and honor to the country by winning the men's World Surfing League (WSL) La Union International Pro Longboard Qualifying Series held in Urbiztondo Beach in San Juan, La Union last month.
Esquivel made it to the top after edging out Japanese rival Taka Inoue in the finals.
"With your victory, you have not only brought pride and honor to our country. Your remarkable feat has also shown that Filipinos can compete against the best in the world," Romualdez told Esquivel, who paid him a courtesy call Monday at the House of Representatives in Batasan Hills, Quezon City.
Romualdez noted Esquivel's skill and talent have propelled him to the top, saying the surfer's determination and perseverance have set an example for others to follow.
"Keep up the good work, and may you continue to ride the waves of success," he said.
Esquivel is set to compete again this year in two more surfing competitions in Bali, Indonesia and in South Korea in his bid to qualify for the WSL World Tour.
Romualdez assured Esquivel that all the House members are "very supportive of the sport," saying not only does it help encourage the youth to engage in sports and athletics but also gives the country positive exposure to athletes here and abroad.
United Philippine Surfing Association (UPSA) Secretary General Gino Canlas accompanied Esquivel during the courtesy call.
Ilocos Sur Representative Ronald Singson and La Union Rep. Francisco Paolo Ortega filed House Resolution No. 714 congratulating Esquivel for becoming the first Filipino to win the WSL Men's Longboard Surfing Competition.
According to the resolution, Esquivel indubitably "exhibited athletic excellence and exemplified outstanding sportsmanship in the aforementioned competition."
"This achievement of Esquivel affords great pride and honor to the country as it strives to produce better surfers who will conquer the world's biggest waves," it added.
Esquivel won the 2019 Southeast Asian Games longboard silver medal and is also a record holder in the Philippine Surfing Championship Tour (PCST) and the Renextop Asian Surfing Tour (RAST) since 2018. (PNA)