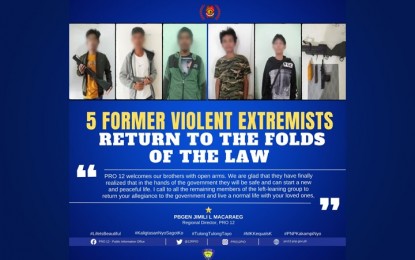 ISULAN, Sultan Kudarat – Five members of the Bangsamoro Islamic Freedom Fighters (BIFF) have surrendered over the weekend and pledged allegiance to the government, police said Monday.
Brig. Gen. Jimili Macaraeg, director of the Police Regional Office for the Soccsksargen Region (PRO-12), said the surrender of the BIFF batch on Sunday came after weeks of backdoor negotiations with the Sultan Kudarat police, the Army's 1st Mechanized Infantry Brigade, and intelligence units.
"They turned in their firearms and explosives," Macaraeg said.
He identified the surrenderers as Montasir Bamigan, 23; Alimuden Ali, 51; Jerry Kamid, 25; Bimbo Utto, 22; Benladin Balayman, 22. All are members of the BIFF Kagui Karialan faction in Maguindanao.
They yielded an M79 grenade launcher, a homemade Uzi machine pistol, improvised explosive devices, and ammunition.
Macaraeg said the surrenderers are now undergoing debriefing at the Sultan Kudarat police provincial headquarters here for proper disposition.
Their surrender came a day after a joint police and Army team killed a BIFF sub-commander Abdulkarim Lumbatan Hasim alias "Commander Boy Jacket," in Tacurong City, also in this province.
Hasim was tagged as the mastermind in the murder of Lt. Reynaldo Samson, police chief of Ampatuan town, Maguindanao del Sur province in August last year. (PNA)