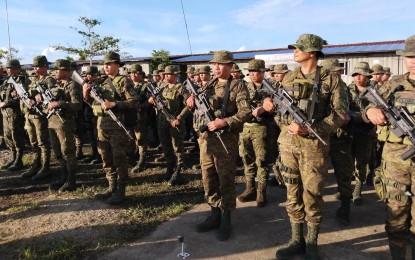 PALO, Leyte – The Philippine Army has welcomed the arrival of two battalions from Mindanao tasked to help suppress the New People's Army (NPA) in Northern Samar province, considered the last bastion of insurgency in the country.
The Army's 8th Infantry Division formally welcomed around 1,000 soldiers from the 74th Infantry Battalion (IB) and 42nd IB during a ceremony at the Government Center here late Monday.
Before their deployment in the region, the 74th IB troopers fought the Abu Sayyaf Group in Basilan province. The unit also took part in the campaigns of the Western Mindanao Command under the Operational Control of Joint Task Force Zamboanga.
The 42nd IB was also cited for its performance in the conduct of offensive operations against armed rebels operating in Quezon and Bicol areas. The unit has been assigned in the provinces of Camarines Sur, Zamboanga Peninsula, Lanao Del Sur and Sulu.
They contributed to the liberation of Marawi City, where they took part in the six-month battle against the ISIS-Maute Group.
The battalion was also instrumental in neutralizing key NPA leaders and personalities and dismantling the regional leadership of NPA's Western Mindanao regional party committee.
Army 8th Infantry Division commander Major Gen. Camilo Ligayo said the two additional battalions will boost the anti-insurgency campaign in the region, especially since four of the last five remaining guerilla fronts in the country are in Samar Island.
"We are in the winning momentum in dismantling the four active guerilla fronts in our areas of operations. Thus, an additional force would be great as we continue to strike hard on the communist terrorist groups and will shorten the time in attaining strategic victory and to finally put an end to this insurgency," Ligayo said during the ceremony.
The official is upbeat about ending insurgency in three to six months with additional troops and new recruits.
"The higher headquarters of the Armed Forces of the Philippines is very supportive, from additional forces to war-fighting equipment, they really ensure that we are fully equip in this fight. And, in no time we can totally eradicate NPA in the region," Ligayo added.
On Feb. 17, 2023, the 21st Scout Ranger Company belonging to the elite force of the 4th Scout Ranger Battalion also arrived as additional forces to help end the decades-long insurgency problem in Samar.
Since last year, a total of four additional battalions have been deployed to Eastern Visayas that will contribute to the fight against armed rebels.
Meanwhile, the Philippine Army welcomed on Monday 564 new soldiers who completed a six-month training at Camp Eugenio Daza in Hinabangan, Samar.
The new soldiers finished their Basic Military Training during their Candidate Soldier Course, which started on July 18, 2022.
The new graduates will assist in fighting insurgency and bringing out peace to the entire region by serving in various army battalions and units throughout Eastern Visayas. (PNA)