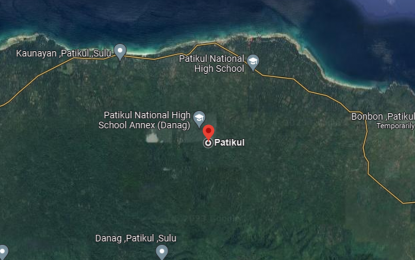 ZAMBOANGA CITY – An Abu Sayyaf Group (ASG) bandit was killed while two soldiers were wounded in two separate clashes in the hinterlands of Sulu province, a top military official said Tuesday.
Maj. Gen. Ignatius Patrimonio, 11th Infantry Division commander, said the first clash broke out around 7 a.m. Monday in Barangay Kabbon Takas, Patikul town, Sulu.
Patrimonio said the fire fight ensued when the troops of the Army's 111th Division Reconnaissance Company (DRC) and 32nd Infantry Battalion (IB) chanced upon the group of ASG leader Mudzrimar Sawadjaan while on a combat operation.
"Due to the superior firepower of the 111DRC troopers and 32IB, the enemies quickly withdrew," Patrimonio said in a statement.
Another firefight ensued as the reinforcing 32IB troops chanced upon the fleeing ASG bandits, he added.
Patrimonio said the bandits are believed to suffered casualties.
While scouring the encounter site, the troops recovered the remains of an ASG bandit, an M-14 rifle, ammunition, an analog cellphone, and three backpacks loaded with assorted stuff and personal belongings.
Patrimonio said the slain ASG bandit was later identified as Rhudymar Habib Jihiran, one of the followers of Sawadjaan.
Jihiran is the husband of Sitti Aisyah Rullie, also known as Maryam Israni, an Indonesian who was indoctrinated to become a suicide bomber.
Government troops rescued Sitti Aisyah from the hideout of Jihiran in June 2021 in Barangay Bangkal, Patikul.
Sitti Aisyah is the daughter of alleged foreign terrorist couple Rullie Rian Zeke and Ulfa Handayani Saleh, both Indonesians and tagged as the suicide bombers behind the 2019 bombing of Our Lady of Mount Carmel Cathedral in Jolo.
Patrimonio said the two soldiers who were wounded during the clash are in stable condition and currently recuperating at the Kuta Heneral Teodulfo Bautista Station Hospital in Jolo. (PNA)