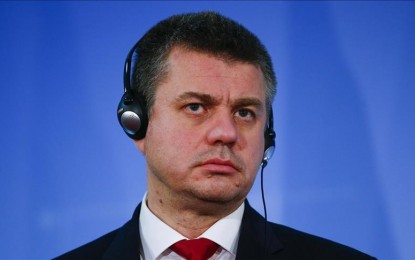 WARSAW – The Estonian Foreign Minister on Monday recommended imposing a price limit on Russian liquefied natural gas (LNG) given Russia's lucrative LNG trade worth billions of dollars.
Reinsalu, speaking to journalists as he entered the EU Foreign Ministers Meeting in Brussels, underscored the importance of "continuous" support for Ukraine against Russia, arguing for the use of Russian seized assets.
He asserted that the $60 per barrel ceiling for Russian oil is too high and that it should be in the $30 range.
Reinsalu also advocated for a price cap on Russian LNG and suggested that oligarchs who continue to defend Russia be sanctioned by the European Union.
"We need to provide more security support to Ukraine with the European Peace Facility. I think we have cornered Russia in terms of international relations as well as psychologically," he said.
The G7 and European Union member countries agreed in December on a $60 per barrel cap for Russian crude exports transported by sea, aiming to hit Moscow's revenues from oil exports and sales during Russia's war against Ukraine. (Anadolu)