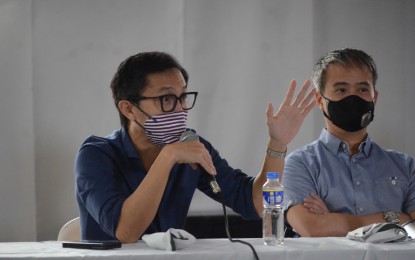 MANILA – Former Deputy Chief Implementer Vince Dizon of the National Task Force Against COVID clarified on Tuesday that there was "no strings attached" during the bilateral donations of Covid-19 vaccines by other countries to the Philippines.
Dizon made the assurance during the resumption of the inquiry launched by the Senate Blue Ribbon Committee into the reported PHP44.42 million worth of Covid-19 vaccine wastage and the non-disclosure agreements (NDAs) entered by the national government on vaccine procurement contracts.
"As for my personal knowledge, there were no strings attached and correlation in that donations sir," Dizon said answering to Senator Francis Tolentino, who chairs the committee, citing that at the height of the pandemic, the Philippine government was "cramming" to acquire Covid-19 jabs from the developed countries.
Dizon also clarified that he was not part of the Covid-19 vaccine procurement process.
Tolentino said the non-utilization of the vaccines might be because: the vaccines were about to expire when procured; there were systems in place that would prevent the proper distribution of the vaccines; there was lack of proper information obtained on the part of the intended recipients (Filipinos); and there was inexcusable neglect perhaps on the part of those handling the vaccines.
The purpose of the hearing, he said, was not to ascribe fault to any government agency or private entity, "but to enable the public to know how their money was spent and how the systems in place then had been fine-tuned and better implemented."
The lawmaker said he hopes it would also guide the Department of Health (DOH) and any other agencies to do better in other similar situations.
As of Dec. 2, 2022, the DOH reported that among the wasted Covid-19 vaccines, some 10.1 million or 13.9 percent are COVAX Facility donations. (PNA)