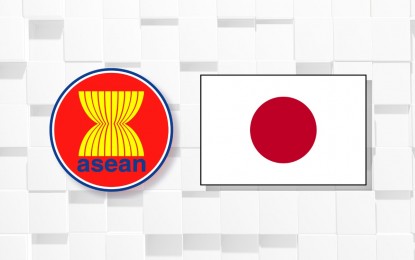 MANILA – Japan intends to foster closer cooperation with the Association of Southeast Asian Nations (ASEAN) as a way to ensure security and prosperity in the region, the Japanese Ministry of Foreign Affairs (MOFA) said Tuesday.
In an online briefing, Principal Deputy Director Hideki Yazawa of the foreign ministry's Asian and Oceanian Affairs Bureau said a number of activities are expected throughout the year and beyond as Japan and the ASEAN mark 50 years of cooperation this 2023.
"Japan would like to continue our good relations and work together for the security and the prosperity of the Asia and the world. That is what we expect to achieve," he told reporters.
ASEAN and Japan first established informal dialogue relations in 1973, which was later formalized in March 1977.
Since then, significant progress has been made in all areas of political security, economic-finance and socio-cultural cooperation, according to ASEAN.
Japan's official development assistance (ODA) to ASEAN also reached USD4.9 billion in 2019, which is focused on infrastructure support, strengthening of intra-regional connectivity, and poverty reduction, among others.
In the Philippines, Japan is a top ODA source.
The East Asian nation also continues to partner with the bloc in realizing the ASEAN Outlook on the Indo-Pacific.
To recall, the two partners in 2020 agreed to enhance practical cooperation and synergy on economic, maritime cooperation, connectivity and UN Sustainable Development Goals 2030.
Yazawa, in his presentation, said Japan helped ASEAN improve access to low-cost and high-speed broadband internet, including in remote islands in Indonesia and the Philippines.
In addition, it supported women in Southeast Asia by improving financial access and maintenance of employment of micro, small and medium-sized enterprises (MSMEs) operators affected by Covid-19.
On promoting a rules-based Indo-Pacific region, especially in the wake of recent tensions in the South China Sea, Yazawa said Japan would continue to oppose attempts at changing the status quo in the area.
Yazawa said Japan and ASEAN would jointly announce the new vision for the future of ASEAN-Japan relations in December 2023. (PNA)