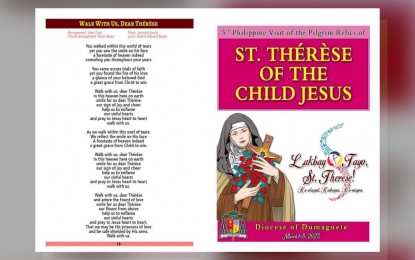 DUMAGUETE CITY – The Diocese of Dumaguete is in the thick of preparations for the three-day visit of the Relics of St. Thèrése of the Child Jesus from March 6-8 in several areas of Negros Oriental and Siquijor provinces.
This is the 5th visit of the Relics of St. Thèrése to the Philippines and the 2nd to the Diocese of Dumaguete.
"Preparations are already about 90 percent in place with just some polishing needed and we are coordinating closely with the local government units, the Armed Forces of the Philippines, the Philippine National Police, and other stakeholders to ensure the safety of the Relics and the public," Msgr. Julius Heruela, the diocesan coordinator of the saint's pilgrim relics, told the Philippine News Agency on Tuesday.
Parishes will hold a nine-day novena prayer and catechesis on the life of St. Thèrése in preparation for the arrival of the pilgrim relics here, he said.
On March 6, the pilgrim relics will arrive from Kabankalan City in Negros Occidental province, and will be met and received by a delegation from the Diocese of Dumaguete at the border in Mabinay town, Negros Oriental.
A motorcade will follow, making 15-minute pit stops in parishes from Mabinay to this capital city for the Catholic faithful to have an opportunity to see and venerate the relics before proceeding to this capital city for an overnight vigil.
Upon arrival here, a welcome mass will be offered at the St. Catherine of Alexandria Cathedral.
On the second day of the visit, the relics will be brought to the Lamberto Macias Sports Complex here where a huge crowd of about 5,000 people is expected to attend a concelebrated mass, presided over by Bishop Julito Cortes.
The pilgrimage to the Diocese of Dumaguete will conclude with the relics' visit to the nearby island-province of Siquijor on the third day on board a Philippine Navy ship, after which these will be brought to Dapitan City later that day.
The pilgrim relics of St. Thèrése arrived in early January in the Philippines and will be visiting 54 archdioceses and dioceses in the Philippines.
It is timed with the celebration of the Catholic Church's Synod on Synodality, hence, the visit's theme, "Lakbay tayo, Saint Thérèse! Ka-Alagad, Kaibigan, Ka-Misyon".
Heruela said that during the visit of the pilgrim relics in the Diocese of Dumaguete in 2000, a miracle attributed to St. Thérèse was reported, involving a woman who was suffering from massive bleeding and was a "hopeless case" that doctors attending to her did not have any explanation as to why the hemorrhage stopped.
The pilgrim relics of Saint Thèrése visited the Philippines in 2000, 2008, 2013, and 2018. (PNA)