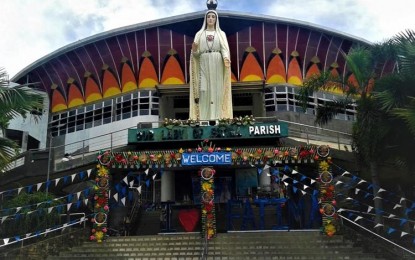 MANILA – The Our Lady of Fatima Parish (OLFP) in Urduja Village, Novaliches, North Caloocan City will be elevated into a Diocesan Shrine on Feb. 25, 2023.
"The Eucharistic Celebration and Solemn Declaration of the OLFP as Diocesan Shrine and gift to our Blessed Mother, the Queen of Peace, will be presided at 3 p.m. by Novaliches Bishop Roberto O. Gaa," the Roman Catholic Diocese of Novaliches (RCDN) said in its website.
The OLFP is under the RCDN which encompasses the northern half of Quezon City as well as northern Caloocan City, including Bagong Silang, Tala, Malaria, Makatipo, Pangarap Village, Amparo Village, Camarin, Llano, Deparo, Bagumbong, B.F. Homes Caloocan, Caybiga, Bagbaguin and Talipapa.
The OLFP church is located at Magat Salamat and Kumintang Streets in Urduja Village, North Caloocan.
Urduja Village was formerly known in 1968 as the Philippine Homesite and Housing Corp. (PHHC) government project in Zabarte, Novaliches.
Among its first residents were journalists who were members of the National Press Club of the Philippines (NPC) and working at the then national newspapers Manila Timers, Manila Chronicle, Evening News, Daily Mirror and others. Among them was the late Manila Times reporter-photographer Ben Roxas who died while covering the bombing of the Liberal Party election rally at Plaza Miranda in Quiapo on Aug. 21, 1971, and radio-television maverick broadcaster-commentator Roger "Bomba" Arrienda.
The Diocese of Novaliches was one of the five new bishoprics created in Metropolitan Manila by the Vatican at the turn of the present millennium. The four others were Cubao in Quezon City, Caloocan, Paranaque and Pasig.
According to the RCDN website, the Diocese of Novaliches has 73 parishes in two mission areas clustered into 12 vicariates and three districts as of 2019. Its combined population is 2.6 million.
The first head of the RCDN was Bishop Teodoro C. Bacani Jr. He became Bishop Emeritus of Novaliches upon his replacement by Bishop Antonio G. Tobias sometime in 2003. Its present bishop is the Most Rev. Roberto O. Gaa.
The diocese, which is dedicated to Jesus Christ, the Good Shepherd, has its cathedral along Regalado Avenue Extension in Fairview, Novaliches. It has a total land area of 138 square kilometers.
The dozen vicariates of the RCDN are those of the Christ the King; Our Lady of Lourdes; Santo Niño; Holy Cross; Ascension of Our Lord; Good Shepherd; Holy Spirit; Shrine and Parish of Our Lady of Mercy; San Bartolome; San Isidro Labrador; St. Peter; and Ina ng Lupang Pangako. (PNA)