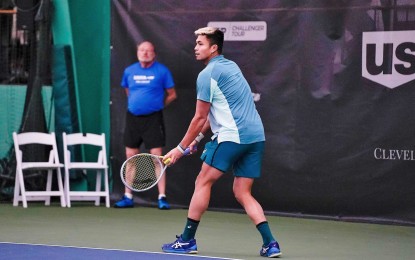 MANILA – Filipino-American Ruben Gonzales has expressed his commitment to play for the Philippine tennis team in the forthcoming Southeast Asian (SEA) Games in Cambodia and is setting his sights on winning the gold medal.
"Yes, I am playing SEA Games and I am always shooting for gold," the 37-year-old Gonzales said in an online interview on Wednesday.
On Sunday, he reached a career-best doubles ranking of No. 120 after a runner-up finish at the Association of Tennis Professionals (ATP) Challenger in Manama, Bahrain.
Seeded fourth in the USD125,000 event, Gonzales and Brazilian partner Fernando Romboli bowed to third seeds Patrik Niklas Salminen of Finland and Bart Stevens of the Netherlands, 3-6, 4-6.
On their way to the finals, Gonzales and Romboli defeated Toshihide Matsui and Kaito Uesugi of Japan, 7-6 (3), 6-7 (7), 10-6; Andrea Arnaboldi of Italy and Alexandre Muller of France, 7-6 (4), 6-2; and top seeds Roman Jebavy of Czech Republic and Jonny O'Mara of the United Kingdom, 7-5, 4-6, 10-5.
"I'm really proud that all my hard work is paying off! And this, I have only played three tournaments this year and already two finals! However, there are still a lot of work to do and a lot to improve on. But really grateful for the start of the year that I've had," said Gonzales, who pocketed three ATP Challenger titles last year.
Playing as the No. 2 seeds at the Tenerife Challenger 3 in Spain last week, Gonzales and Romboli were eliminated in the semifinals by No. 4 seeds Andrew Harris of Australia and Christian Harrison of the United States, 2-6, 4-6.
In January, Gonzales and American Reese Stalder reached the final round of the Cleveland Open.
However, they lost to American Robert Galloway and Mexican Hach Verdugo, 3-6, 7-5, 10-6.
"I will play at least 12 ATP Challengers before the SEA Games. I will try to prepare as best as I can," said the 6-foot-0 Gonzales, who will team up again with Stalder at the USD125,000 ATP Challenger in Monterrey, Mexico starting on Thursday.
Gonzales, who was born in Chicago, Illinois and raised in Indiana, has represented the Philippines in major tournaments, such as the Davis Cup, Asian Games, and the SEA Games.
He is a consistent medalist in the SEA Games, winning the doubles gold with fellow Fil-Am Treat Huey in Vietnam (2022).
Gonzales also won the doubles silver medal with Huey (2019, Manila), Francis Casey Alcantara (2017, Malaysia), and Jeson Patrombon (2015, Singapore). (PNA)