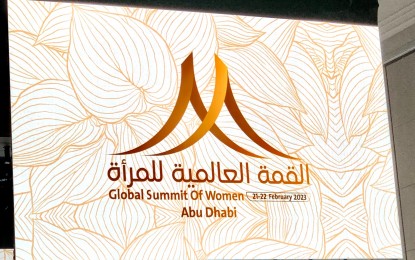 ABU DHABI, United Arab Emirates – For years, women were labeled as the "weaker sex" and relegated to supporting positions.
As Maja Gojkovic, the Deputy Prime Minister of Serbia, put it during her speech at the Global Summit of Women here Tuesday, it was previously unimaginable for women to take on leadership roles.
Lorena Karim, a journalism graduate in the Philippines who has relocated here after finding employment in a public relations firm, couldn't agree more while listening to Gojkovic.
"When I was a young writer back home, I was never assigned the big stories because they thought I was too fragile," said the 49-year-old Karim, who has been living in the United Arab Emirates (UAE) for a decade now. "I heard from friends that things have changed since. I'm glad."
Gojkovic, also Serbia's Minister of Culture and president of the coordination body for gender equality, has contributed to greater participation of women in the political and social life of her country.
"Enormous efforts of many generations of women, their work and talent, paved the way for many of us," she said during the summit's opening. "It has become perfectly clear that the position of leader is not exclusive to the stronger sex."
In the Philippines, there have been two women presidents while incumbent Sara Duterte is the third woman vice president.
In the Senate, seven of 24 members are women.
Indian President Droupadi Murmu, the second female leader of her country after Prathibha Devisingh Patil (2007-2012), said the UAE's efforts, like hosting the summit, would go a long way in promoting gender equality.
"It is a reflection of the vision of (Her Highness) Sheikha Fatima (bint Mubarak, chair of the General Women's Union) about women in the UAE and the world," Murmu said in her video-recorded speech. "The UAE is one of the most preferred places in the world for women to live and work. This is a testimony to your visionary leadership."
A similar summit is slated to be held in Dubai on May 4 to 6.
Still, a lot needs to be done.
A recent United Nations Foundation report said "girls and women are still more likely to be poor, illiterate, hungry, unhealthy, legally constrained, politically marginalized, and endangered by violence" in countries in every region.
"The Covid-19 (coronavirus disease 2019) crisis exacerbated pre-existing gender inequalities, disproportionately impacting millions of girls and women. Women have lost jobs at higher rates, school closures have jeopardized girls' education, and countries worldwide have reported an increase in gender-based violence," the report read.
Prof. Mariett Westermann of the New York University Abu Dhabi said change would begin when philanthropy can redistribute wealth and social care.
She said philanthropy means pooling together resources of like-minded organizations and working with communities to address poverty.
"Poverty is an enduring problem. Lack of sufficient food and water, lack of access to education, health care, insurance, transportation, economic opportunities," she said at the sustainability and poverty-alleviation plenary session of the summit. "Each of these lacks affect(s) women and girls more negatively than men, according to studies."
The good news is the world is recognizing poverty-alleviation measures, like the Abu Dhabi summit that explored women-related problems and shared innovative ways and best practices to reduce poverty.
The second and last day of the summit on Wednesday will discuss women in politics, media and creative industry, fine arts, culture, sports, and tourism. (PNA)