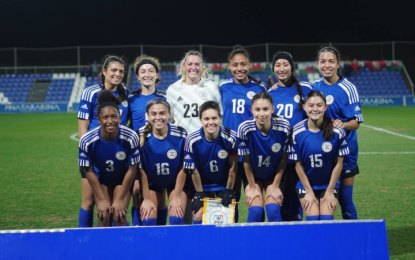 MANILA – The Philippine women's football team finished its campaign in the Pinatar Cup on a sour note early Wednesday (Philippine time) after dropping a 0-5 loss to Iceland in the final match of the tournament at the Pinatar Arena in San Pedro Del Pinatar, Spain.
Amanda Andradottir found some space from outside the box and launched a 20th-minute rocket goal that staggered Olivia McDaniel.
Andradottir stunned McDaniel again with a 51st-minute goal to make it 2-0.
McDaniel got a piece of the shot, but Andradottir's shot was too powerful for her to save.
Selma Magnusdottir joined the fun with a 71st-minute goal before Hlin Eiriksdottir pounced on a passing miscue to make it 4-0 by the 80th minute.
Alexandra Johannsdottir iced the match with a goal of her own right at the final play of the match.
Iceland went on to rule the Pinatar Cup after going undefeated in three matches for seven points with only a goalless draw against Wales early Monday (Philippine time) keeping them from completing a tournament sweep.
Wales also finished unbeaten with five points, but the team's chances of taking the championship were shut down after Scotland held them to a 1-1 draw on Tuesday night.
Up next for the Filipinas is the first round of the Olympic Qualifying Tournament in Tajikistan this April. (PNA)