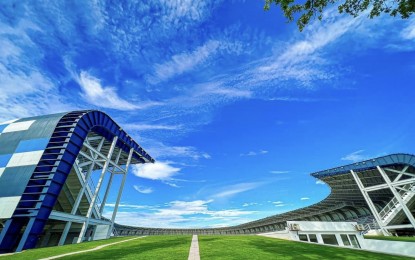 LAOAG CITY – President Ferdinand R. Marcos Jr. is set to grace the reopening of the world-class Ferdinand E. Marcos Sports Stadium, the venue for the grandest cultural dance showdown in the north to be participated in by the 21 towns and two cities of the province on Feb. 24.
Provincial tourism officer Aianree Raquel said on Wednesday that "all hands are on deck" for the big event at the stadium, which was among the government infrastructure projects that were hit hard by Super Typhoon Ompong in 2018, leaving its roof blown off and windows shattered.
As one of the "Big 3" projects of the present administration, the sports stadium underwent a major facelift and is ready to host bigger events, such as the "Tan-ok ni Ilocano Festival of Festivals," showcasing the greatness of the Ilocanos through unique festival dances.
According to Raquel, the stadium has a seating capacity of 12,000, though more people can be accommodated in the open field.
"It is our first time using it, that is why we are working hard on the setup," he said in a media interview.
Aside from hosting major events, the Marcos stadium will remain a training ground for athletes and a regular hangout for runners and Zumba dancers.
This time, a bigger stage platform is being prepared for large events like the grandest celebration of Ilocano talents.
To date, more than 10,000 free admission tickets have been released.
To ensure a smooth traffic flow and the safety of arriving guests, the Philippine National Police and other concerned government agencies have established traffic routes and designated parking, seating, and viewing areas. (PNA)