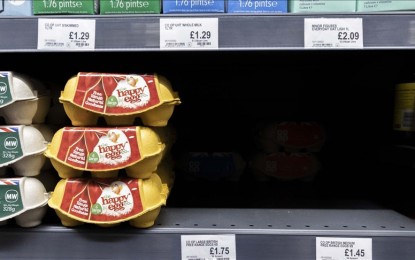 LONDON – Supermarkets across the United Kingdom (UK) are facing empty shelves and supply issues for fresh produce, which has led to the rationing of fruits and vegetables by some chains such as Asda and Morrisons.
Limits are being put on certain fruits and vegetables such as tomatoes, cucumbers, lettuce, peppers, broccoli, cauliflower and raspberries.
"Despite our warnings, we're still seeing empty retail shelves. We should never take our food security for granted. Food security means ensuring our food is safe to eat, distributed efficiently and remains affordable," Minette Batters, president of the National Farmers Union, said Tuesday.
The government said that current supply issues are largely due to the cold weather in Morocco and Spain, which has affected the production and transportation of fruits and vegetables to the UK.
But the shortage of salad vegetables in the UK is also being felt as high energy prices are making it uneconomic for some growers to operate, according to Batters.
Many UK farmers are reportedly using heated greenhouses less due to higher energy costs, which has further affected the availability of locally grown produce.
Frost damage has also been a major problem for many fields growing vegetables, causing significant losses.
This shortage of UK-grown produce is compounding the import-related supply issues, leading to the rationing of fruits and vegetables by some UK supermarkets.
Farming Minister Mark Spencer has acknowledged the issue of supply disruption and urged the public not to panic buy, while the government is reportedly exploring ways to support UK farmers and increase the supply of homegrown produce. (Anadolu)