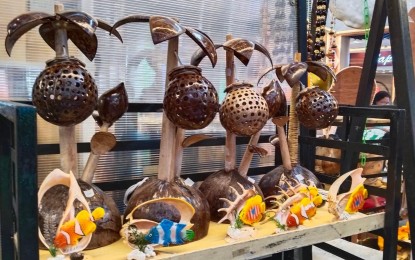 MANILA – Camarines Sur 2nd District Rep. Gabriel Bordado Jr. on Wednesday underscored the importance of art to Filipinos, saying it plays a valuable role in strengthening "our sense of nationalism."
As the country celebrates National Arts Month, he said the government should gear up to putting more effort into promoting arts that "can be instrumental in driving tourism growth."
Former president Corazon Aquino declared February as National Arts Month under Presidential Proclamation 683.
It is during this time that Filipino artists are honored for their contributions to the country's history, culture, and overall development as a nation.
This year, the theme of National Arts Month is "Ani ng Sining, Bunga ng Galing." It alludes to the bounty of extraordinary, one-of-a-kind works borne from the passion and talents of Filipino artists.
"It is unfortunate to note… that for many people art comes second fiddle to fields deemed more serious, lucrative or worthwhile such as business or science. It is not viewed as a significant profession, but as a luxury and as a hobby to be pursued on the side," Bordado lamented.
He said a month-long celebration of the arts might be seen as a frivolity, particularly at a time when the country is still struggling to shake off the pandemic's ill effects.
He noted that arts provide direct benefits for the country's economic activity, such as job creation among marginalized persons for example and tend to improve the quality of certain Filipino products and services.
"When creativity is effectively interwoven into various fields, we are able to build better roads and infrastructure, innovate processes, advance technology, elevate the natural beauty of our surroundings, and provide solutions to different challenges that may arise," Bordado said.
He also pointed out the significance of arts in tourism, saying "it encourages the rest of the world to see our distinctive culture through many creative endeavors and disciplines."

Before the pandemic, tourism contributed about 13 percent to the country's gross domestic product (GDP).
The Tourism Direct Gross Value Added, the gross value added generated by tourism industries and other industries of the economy, amounted to PHP2.48 trillion in 2019, according to the Philippine Statistics Authority.
In 2022, more than 2.65 million foreign tourists visited the Philippines, raking in roughly USD3.82 billion in revenue.
Bordado added that in sectors such as education, art is invaluable in encouraging young minds to learn and understand different subjects and areas.
"It is a great motivator for the youth to grow into productive, learned, and empathic members of society. All of these allow the country to create a more empowered citizenry, generate more income, and advance in our development as a nation," he said.
While the art sector's profitability cannot be disputed, more than its commercial advantages, it is also an integral part of our humanity, he said.
"Creativity and the need to express it is as crucial as our need to eat, to breathe, to feel, or to seek connection to other human beings. And it is through the different mediums of art – such as literature, theater, dance, music, painting and more – that humans are able to make better sense of the world and of the other souls inhabiting it," Bordado added.
He said it is through the works of Filipino artists that generations after generations are able to learn and understand our collective triumphs and hardships as a nation.
"Art is a language that transcends time, race, age, gender, educational attainment, religion, or socio-economic class," he said. "Despite the dismal situation we currently find ourselves in, beauty and excellence could still spring and thrive. It is a stark reminder of our capability to heal and rise above our obstacles, and the capability of art to restore and reinspire our drive for progress and growth as a nation." (PNA)