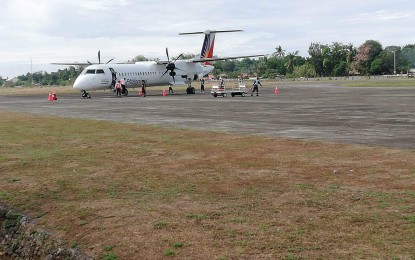 SAN JOSE DE BUENAVISTA, Antique – The Department of Education (DepEd) will relocate the Salazar Elementary School (SES) in Barangay Funda-Dalipe in San Jose de Buenavista to pave the way for the rehabilitation of the Antique Airport.
"Mayor Elmer Untaran has already informed us that they have found a new site for the relocation of the SES still within the barangay," said DepEd Schools Division of Antique Engineer Rex Galero said in an interview Wednesday.
Galero added that they are coordinating with the Department of Transportation (DOTr) and the local government unit (LGU) of San Jose de Buenavista for the relocation.
The budget for the procurement of the new school site and its construction is already included in the PHP500 million budget for the Antique Airport rehabilitation project under the 2023 General Appropriations Act (GAA).
It will be downloaded to the LGU that will undertake the project following the design of the Department of Public Works and Highways.
The SES sits in a 3,500 square meter area, which is near the airport runway.
The school's two new buildings with 10 classrooms could be affected by the airport expansion.
Juanito Tanchico Jr., Civil Aviation Authority of the Philippines (CAAP) manager in Antique in a separate interview, said the airport runway cannot yet accommodate airbuses by the Philippine Airlines, lone air carrier flying from Metro Manila to Antique on Tuesday, Thursday, and Saturday.
"The Antique Airport, as of now, is only 1,300 meters wide," he said, adding that the runway has to be widened to at least 1,980 meters to be able to accommodate an airbus.
He also said that once the expansion will be finished, the Antique Airport is expected to become competitive with the other airports in the country and be able to entice other airline companies to operate in the province.
Meanwhile, learners of 13 remote schools from the province are recipients of school supplies from the Philippine Independent Day Council (PIDC), which is an organization of the Filipino-Canadians in Toronto, Canada.
The organization has been giving school supplies since December 2022 and the members of their board arrived in San Remigio, Antique on Feb. 19 to join the distribution.
PIDC Panay Island coordinator Salome Victoriano Mader, in an interview on Wednesday, said she lobbied for the 13 schools to provide learners with school supplies.
"I had been there before and I would like to help the children," said Mader, who was assisted by her husband Canadian Kurt Mader during the distribution. (PNA)