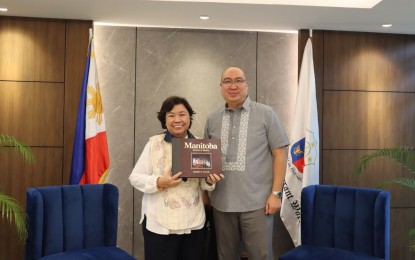 MANILA – Manitoba Minister of Labour and Immigration Jon Reyes has expressed interest in hiring more skilled Filipino health professionals under a new program that would financially support Filipino nurses.
Said program would include the provision of airfare, accommodation, and training, among others.
In a courtesy call to Department of Migrant Workers (DMW) Secretary Susan "Toots" Ople on Wednesday, the two officials agreed on furthering labor cooperation between the Philippines and the Canadian province, especially in the recruitment of Filipino nurses and other healthcare professionals.
The proposed scholarship fund for Filipino nursing students who wish to work in Canada was also discussed during the meeting.
The Philippine Embassy in Canada said that as of April 2018, there are around 901,218 Filipinos working and staying in Canada which comprises almost 2.6 percent of its national population.
The embassy added that the Philippines continues to be the top source of immigrants to Canada, followed by India, China, and Iran.
Canadian provinces with the most number of Filipinos include Ontario, Alberta, and Manitoba while Toronto remained the Canadian metropolitan area with the most number of Filipinos, followed by Vancouver and Winnipeg.
Meanwhile, Ople conveyed her appreciation to the Canadian government for their hospitality and firm commitment to upholding the rights and welfare of Filipino migrant workers, and for recognizing the professionalism of Filipino nurses.
"It's very natural to our Filipino nurses, to our healthcare professionals to see every patient as a member of the family or a friend. Being warm, hospitable, caring, and hopeful are some of the qualities of our Filipino nurses that makes us proud," Ople said. (PNA)