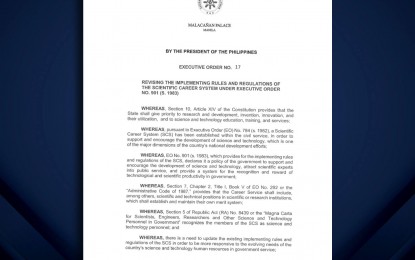 MANILA – President Ferdinand R. Marcos Jr. has issued an executive order (EO) revising the implementing rules and regulations (IRR) of the scientific career system (SCS) under a previous presidential order.
The SCS is a system of recruitment, career progression, recognition and reward of scientists in the public service, as a means of developing a pool of highly qualified and productive scientific personnel.
Under EO 17, signed by Marcos on Feb. 20, he underscored the need to update the IRR to effectively respond "to the evolving needs of the country's science and technology human resources in government service."
The EO states that the SCS will be characterized by "the entrance to and a career progression or advancement based on qualifications, merit and scientific productivity, career path to scientists, as well as incentives and rewards to ensure attraction and retention of highly qualified personnel in the science and technology sector."
It will apply to scientific personnel with master's and doctorate degrees in sciences who are directly involved in research and development, covering biological sciences, engineering and technology, mathematical and physical sciences, health and agricultural sciences, as well as all scientific disciplines determined by the Scientific Career Council (SCC).
The SCS's administration system will be composed of the chairperson of the CSC as ex-officio chairperson, the secretary of the Department of Science and Technology (DOST) as ex-officio co-chairperson and other ex-officio members.
A Technical Working Group and Special Technical Committees (STCs) will be established by the SCC to serve as an advisory body and screening committee.
STCs in different fields of specialization will be created with each technical committee composed of at least five members recognized by authorities in their respective fields and who will serve for two years.
EO 17 states that the appointments of scientists under SCS will be based on rank, from Scientist 1 to Scientist 5, who will be admitted to the system to the extent that they meet the minimum qualifications.
Their pay will be based on a compensation plan, which will include fringe benefits and reasonable allowances comparable to those of the Career Executive Service (CES).
Based on the compensation plan, Scientist 1 will have a salary grade 26, Scientist 2 will have a salary grade 27, Scientist 3 will have a salary grade 28, Scientist 4 will have a salary grade 29 and Scientist 5 will have a salary grade 30.
EO 17 also calls for the provision of a continuing training program for all active scientists.
The SCS secretariat will be funded by the General Appropriations Act, while scientists from national government agencies, state universities and colleges will be compensated through their respective appropriations.
Scientists from government-owned or controlled corporations (GOCCs) will be compensated through their respective corporate operating budgets, while for those from local government units, their salaries will be charged against their respective local funds in accordance with RA No. 7160 or the Local Government Code of 1991.
EO No. 901, which provides for the IRR of the SCS, declares it a policy of the government "to support and encourage the development of science and technology, attract scientific experts into public service, and provide a system for the recognition and reward of technological and scientific productivity in government."
The 1987 Constitution provides that the state must give priority to research and development, invention, innovation and their utilization, and to science and technology education, training and services. (PNA)