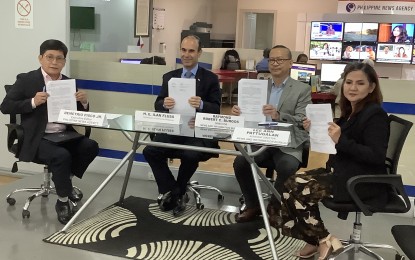 MANILA – State-run Philippine News Agency (PNA) and Israel's Tazpit Press Service (TPS) on Wednesday inked a cooperation agreement that would increase the flow of news content between the Philippines and Israel.
Under the deal, PNA and TPS would provide each other with English news and multimedia news service free of charge and share best practices through their respective reporters, editors and technical experts.
The agreement also covers possible training and visits to either the Philippines or Israel.
Israel Ambassador to the Philippines Ilan Fluss, who witnessed the signing at the PNA office in Quezon City, welcomed the agreement and described it as a "bridge" to boost the two nations' understanding of each other.
"I look forward to seeing more information, and I say more interesting information about Israel because in the Philippines when you read about Israel, it's more of from the international agencies," he said.
"This serves as an opportunity to understand and have different kind of information that is coming out of Israel," he added.
Fluss believes that Filipinos would be interested in reading more about archaeology, technology, as well as religion written from the Holy Land itself.
Presidential Communications Office-News and Information Bureau (PCO-NIB) Director Raymond Burgos and PNA Executive Editor Demetrio Pisco Jr. both see the signing as a milestone for the country's official news wire service.
Burgos said the PNA would be a "close partner" to TPS and report on various stories that are often overlooked by other media outlets.
Pisco, for his part, said the cooperation is timely as the Philippines and Israel mark 65 years of friendship this month.
"I hope in our own way, we can introduce our two countries, our two peoples to each other. (We're celebrating) 65 years of friendship and we look forward to collaborating with TPS," he said.
TPS Director Amotz Eyal and TPS Director of International Operation Miri Ovadia signed the agreement for the Israeli news agency from their headquarters in Jerusalem.
Eyal hoped that the news deal would help enhance the two nations' relations as he assured to bring news content from Israel without a hint of bias.
"I think that the fact that we can start and share actual information, truthful stories, (we) can elaborate the relationship between the countries to a new level," he said.
"Our goal here in TPS is to present Israel without bias in the news. And we see our partnerships as something that is really important for the truth," he added.
Aside from national news, Eyal said TPS produces enterprising stories focused on Israel as a technology hub and a leader in agri-tech.
"I'm really excited that we got to this moment that we're starting and I see it just as a beginning. And I hope that we'll have a fruitful cooperation in the upcoming years," he said.
Aside from Fluss, the signing was also witnessed by PCO-NIB Assistant Director Lee Ann Pattugalan, PNA Deputy Executive Editor Luis Morente, TPS Strategic Advisor Robert Besser, and TPS Senior Editor Pesach Benson.
TPS is an independent Israeli news agency and is the only Israel-based news service that directly gathers and disseminates real-time information for use by local and international news organizations, according to its About page.
PNA has similar deals with Italy's ANSA, Morocco's MAP, Türkiye's Anadolu, the United Arab Emirates' Emirates News Agency, China's Xinhua, and South Korea's Yonhap, among others. (PNA)