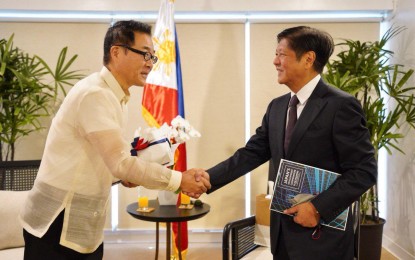 MANILA – Japan intends to work with the Philippines closely in maintaining a "stable regional order" amid heightened geopolitical tensions in the Indo-Pacific region.
Japan Ambassador to the Philippines Kazuhiko Koshikawa relayed the commitment before President Ferdinand R. Marcos Jr. who attended a Japanese reception celebrating Emperor Naruhito's birth on Wednesday night.
"[On our defense and security ties, Japan stands with the Philippines in maintaining a stable regional order to realize a free and open Indo-Pacific founded on universal values of democracy, freedom, and the rule of law," the envoy said.
His remarks reiterate his previous pronouncements supporting Manila in the wake of China's Feb. 6 lasing incident in the Ayungin Shoal and increasing presence within the Philippines' 200-nautical exclusive economic zone as confirmed by the Department of Foreign Affairs.
Koshikawa then hailed the "close cooperation" between the Armed Forces of the Philippines and the Japan Self-Defense Force, as well as the two states' coast guards.
"The world today is facing unprecedented challenges from the pandemic and geopolitical shifts. As His Majesty the Emperor said in his New Year's message, global cooperation is vital now more than ever to address urgent issues and protect universal values that underpin peace, progress, and stability in the international community," he said.
The Indo-Pacific region comprises 40 countries, including five of the world's largest economies namely China, Japan, South Korea, India and Australia.
'Greater heights'
Aside from defense, Koshikawa is optimistic the Manila-Tokyo relations are poised to reach "even greater heights" under the Marcos administration in the areas of economics and people-to-people exchanges.
Japan is the Philippines' largest official development assistance (ODA) contributor, some big-ticket projects of whom include the Metro Manila Subway and the North-South Commuter Railway.
In Marcos' recent visit to Tokyo, Japan also announced a 600 billion yen (USD4.6 billion) in ODA and private investments to further support the administration's infrastructure program.
"Considering the Philippines' economic recovery and robust human capital, I believe its economy will show. top-class growth among Asian countries and attract more. Japanese investors in the coming years," the envoy said.
Koshikawa is also bullish on the prospects of two-way tourism between the two countries, citing at least 50 percent return of Japanese travelers to Philippine destinations.
"I am confident that we will swiftly close that gap and even overtake those pre-pandemic numbers. In addition, the Philippines remains one of the favorite destinations for Japanese tourists for its spectacular natural wonders," he said. (PNA)