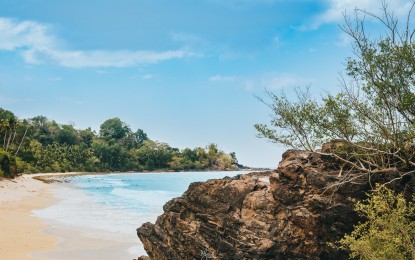 MANILA – Deputy Minority Leader and Basilan Lone District Representative Mujiv Hataman on Thursday pushed for the passage of a bill declaring Lampinigan Island located in the Isabela City, Basilan ecotourism zone.
Hataman said the growing number of visitors frequenting Lampinigan shows the great potential of the island, described as "one of the jewels," as an ecotourism zone.
Once House Bill (HB) 7159 becomes law, he said it would fast-track the development in the area and boost the province's tourism industry.
Lampinigan Island is one of the famous tourist destinations in Basilan, tucked within the jurisdiction of the province's capital city of Isabela with long shorelines of fine white beaches.
In filing HB 7159 or the "Lampinigan Ecotourism Site Act", Hataman said tourism is one of the main sources of livelihood of people in Basilan and the province has so many tourist spots that need government help for development.
Hataman, also the former governor of the now-defunct ARMM, has earlier filed separate HB 6293, or the "Malamawi Ecotourism Zone Act," to declare Malamawi Island, also one of Basilan's hidden gems, as an ecotourism zone to achieve the province's goal as the next must-see tourist destination in the Philippines.
The Malamawi bill has already been approved on the third and final reading at the House of Representatives.
"Maraming komunidad sa amin ang nabubuhay sa turismo sa dalawang islang ito. At dahil sa kapayapaang pinagtulungang maabot ng mga mamamayan sa Basilan, parami nang parami ang dumadating na turista sa Malamawi at Lampinigan (We have lots of communities relying from tourism in both islands. And because of the peace won through concerted efforts of Basilan, more and more tourists are arriving in Malamawi and Lampinigan)," Hataman said.
He said as the number of tourists clearly grows, the government must prepare the infrastructure in Lampinigan and Malamawi to accommodate the influx of visitors, and to protect the pristine conditions of two islands.
According to HB 7159, Lampinigan is a premier tourism spot in Isabela City that is being frequented by thousands of local and foreign visitors every year. The island is said to be one of the country's best white beaches, at par with more popular ones such as Boracay Island.
The measure mandates the Department of Tourism (DOT), Department of Environment and Natural Resources (DENR), and other concerned government agencies to prioritize the protection and development of Lampinigan Island.
"Within one year from the approval of this Act, the DOT, DENR, local government of Isabela City in coordination with the District Representative of the Lone District of Basilan, and other concerned government agencies and civil society organizations, shall formulate the Lampinigan Ecotourism Development Plan (LEDP) involving the construction, installation, and maintenance of appropriate facilities and infrastructure which shall enhance tourism in Lampinigan Island," the bill read.
The measure also calls for the establishment of a Lampinigan Ecotourism Board to be chaired by the City Mayor of Isabela and will have officials from the DOT and DENR as co-vice chairpersons. Other members of the board include the representative of the lone district of Basilan, the City Tourism Officer and Natural Resources Officer, and representatives from NGOs. (PNA)