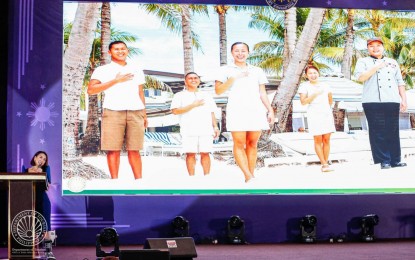 MANILA – The Department of Tourism (DOT) has allotted PHP180 million to support 15 tourism projects across the Philippines.
The project called "Tourism Champions Challenge" is a nationwide campaign to incentivize tourism development among cities and municipalities.
The initiative will help winning local government units (LGUs) in formulating, developing, and managing tourism projects by providing funds to their project proposals, the DOT said Thursday.
Tourism Secretary Christina Frasco said the fund will be sourced from the Tourism Infrastructure and Enterprise Zone Authority and the DOT will receive proposals starting March until May 2023.
"Through the Tourism Challenge we are inviting over 1,400 municipal mayors and over 100 city mayors to propose any tourism project that is in line with the seven-point tourism agenda of the administration," Frasco said.
The new campaign is comprised of the following phases:
Phase 1 - Proposal submission and evaluation;
Phase 2 - Capacity building;
Phase 3 - Presentation and ranking of project proposal;
Phase 4 - Implementation of the project and memorandum of agreement signing; and
Phase 5 - Inauguration of the completed project.
Five winners each from Luzon, the Visayas, and Mindanao will be picked.
A project committee shall evaluate and select the best proposals from LGUs per region, with rank five getting PHP7 million and the top placer bagging PHP20 million worth of tourism projects.
Frasco, who previously held the position as national vice president for Visayas of the League of Municipalities of the Philippines was among the keynote speakers at the organization's General Assembly on Wednesday, an annual gathering of the policy-making and decision-making body in the local government level. (PNA)