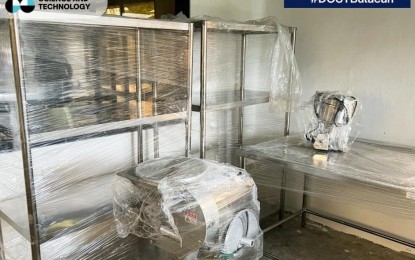 CITY OF SAN FERNANDO, Pampanga – The Department of Science and Technology (DOST) has provided food processing equipment to a farmers' cooperative in Bulacan province.

The equipment will be used by the Bukal Farmers Producers Cooperative (BFPC) based in Barangay Bubulong Munti, San Ildefonso town, for their production of pickled cucumber and chili garlic oil/paste.
Angelita Parungao, provincial director of the DOST - Provincial Science and Technology Office (PSTO) - Bulacan said Thursday that the project aims not only to increase the economic capabilities of the farmer-beneficiaries by adding value to their crops but also to enhance the nutritional status of the community through the production of readily-available and nutritious vegetable processed-products.
Parungao said to ensure the sustainability of the project, the BFPC members underwent comprehensive training on the operation of the equipment.
She said the DOST-PSTO-Bulacan has also conducted a seminar on basic food hygiene and current good manufacturing practices to ensure that their products are safe.
The DOST will likewise provide the farmers' group with a vinegar acetator kit that can accelerate the traditional fermentation process of producing within one day instead of the conventional 30 days to 90 days.
This project is funded under the expanded implementation of the Community Empowerment through Science and Technology (CEST) program of DOST 3 (Central Luzon), which is fully supported by Senator Joel Villanueva.
In 2021, the Department of Agrarian Reform (DAR) also helped the BFPC through the rehabilitation of their cucumber pickles processing facility.

The DAR likewise trained the members, composed of 49 men and 39 women, in the processing of cucumber pickles. (PNA)