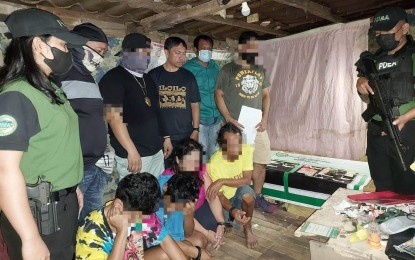 CEBU CITY – A total of PHP3.5 million worth of shabu were seized while 10 persons were arrested during a series of operations in Central Visayas that also led to the dismantling of two drug dens, the Philippine Drug Enforcement Agency (PDEA) in Region 7 reported on Thursday.
Leia Alviar Alcantara, PDEA-7 information officer, said four persons were arrested in Bohol province as they dismantled a drug den at Purok 7, Barangay Bool in Tagbilaran City on Wednesday night.
Operatives seized eight packs of suspected shabu weighing 12 grams worth PHP81,600 and drug paraphernalia from suspects Alberto Gomez, the alleged drug den maintainer, 56; and his live-in partner Evangeline Infanso, 42; Archie Amasura, 18, and Junrel Vailoces, 19.
On Feb.6, PDEA agents also dismantled a drug den in Purok 4 in Barangay Ubujan of Tagbilaran City and arrested 37-year-old maintainer Jaypee Mark Pusta and his assistant identified as Roselyn Diamos, 28. A 23-year-old college student Josef Morrice Quijada who was at the drug den was also arrested.
They seized 20 packs of suspected shabu weighing 12 grams worth PHP81,600, a cellphone, and drug paraphernalia.
Alcantara also reported that the agents of PDEA-7 and personnel of Cebu City Police Station 2 arrested three drug personalities Tuesday and confiscated 18 packs of suspected shabu weighing around half a kilo worth PHP3.4 million in twin sting operations in Cebu City and Dumaguete City.
Arrested in an operation in Sitio Fatima, Barangay Kamputhaw here was a provincial-level drug personality who is targeted in intelligence-driven operations identified as Marie-Den Barbecho alias "Denden", 40.
In Dumaguete City, another provincial-level personality Raul Domen, 37, who is a job order employee of the local government unit's engineering department, was arrested along with his common-law wife, Amor Nimer, 35, in a buy-bust operation.
The live-in partners yielded to authorities eight packs of suspected shabu weighing 12 grams worth PHP81,600.
All the 10 arrested suspects are now facing charges of violating Republic Act 9165, the Comprehensive Dangerous Drugs Act of 2002. (PNA)