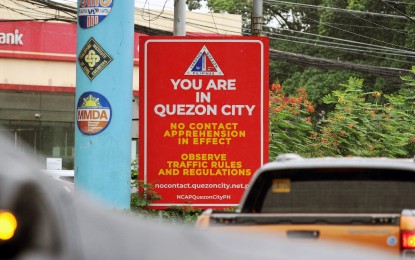 MANILA – A leader of the House of Representatives on Thursday urged Malacañang to look into the development of uniform guidelines for the implementation of the no-contact apprehension policy (NCAP) at the national level.
Deputy Speaker Ralph Recto made the statement in reaction to the possible return of the NCAP in April after it was issued a temporary restraining order (TRO) last year.
The policy uses closed-circuit television cameras (CCTV), digital cameras, and/or other gadgets or technology to capture videos and images to apprehend vehicles violating traffic laws, rules, and regulations.
"Mainam siguro kung iutos ng Malacañang ang isang pag-aaral na ang layunin ay bumalangkas ng isang national policy guidelines sa programang ito (It would be good for Malacañang to order a study that aims to formulate national policy guidelines for this program). Crowdsource the ideas, canvass the best practices, and cure it of its weaknesses," Recto said.
He said the objective is to have a uniform rule that binds the entire country.
"As NCAP is getting viral, spreading to other LGUs (local government units), the rules must be made clear, so there will be benchmarks as to fines imposed, as well as the limits of ROI (return on investment) of private contractors," Recto said.
He also emphasized that even if judicial roadblocks are lifted, the NCAP should not be resumed until broad consultations are held.
"The national government must look under NCAP's hood and tweak and treat the program of its defects. Para kung ibabalik man, walang malawakang reklamo na ang hulicam ay parang hulidap (So that if they implement it again, there will be no major complaints that the surveillance cameras were used to extort money)," he said.
Recto noted that the national guidelines, if drafted, could be further institutionalized by way of legislation, or through an executive order by President Ferdinand R. Marcos Jr.
"In principle, I agree that CCTVs could be a tool to enhance traffic enforcement, to impose rules – that should be the only motivation, and never to raise revenues," he said.
In August 2022, the Supreme Court issued a TRO against the implementation of NCAP-related programs and ordinances and any apprehensions "until further orders."
The order also stopped the LTO "and all parties acting on its behalf from giving out motorist information to all government units, cities, and municipalities enforcing NCAP programs and ordinances."
Transport groups Kilusan sa Pagbabago ng Industriya ng Transportasyon Inc., Pasang Masda, Alliance of Transport Operators and Drivers Association of the Philippines, and Alliance of Concerned Transport Organizations filed the petition against Manila, Quezon City, Valenzuela, Parañaque City, Muntinlupa City, and the LTO.
The groups said the system, which uses CCTVs, places motorists "under constant threat of being arbitrarily apprehended remotely and issued notices of violation for alleged traffic offenses committed without any contact whatsoever."
The cities that have fully implemented NCAP cited a decrease in obstructions, choking of traffic from apprehended vehicles, reckless driving, and hazardous motorists' habits. (PNA)