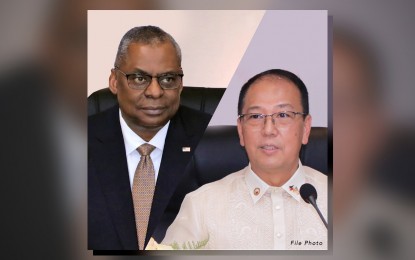 MANILA – United States Defense Secretary Lloyd Austin III has reiterated that any armed attack on Philippine ships and aircraft in the South China Sea will result in the invocation of the Mutual Defense Treaty (MDT).
Austin issued this commitment after a phone call with Undersecretary Carlito Galvez Jr., the Department of National Defense (DND) officer-in-charge, on Wednesday.
"Austin reiterated that the US' commitment to the alliance remains ironclad, and that an armed attack on Philippine armed forces, aircraft, and public vessels, including the Coast Guard, anywhere in the South China Sea, would invoke US mutual defense commitments under Article IV of the MDT," said DND spokesperson Arsenio Andolong in a statement Thursday.
Article IV of the MDT between the Philippines and the United States states that "each Party recognizes that an armed attack in the Pacific area on either of the Parties would be dangerous to its own peace and safety and declares that it would act to meet the common dangers in accordance with its constitutional processes."
The MDT between the two nations was signed on Aug. 30, 1951.
"The call marked the second bilateral engagement between the two defense officials since Senior Undersecretary Galvez's appointment as OIC, DND in January 2023 and follows the recent visit of Secretary Austin to the Philippines on 02 February 2023," Andolong said.
In the statement, Galvez expressed appreciation for the US government's support for the Philippines in view of recent incidents in the West Philippine Sea including the use of a military-grade laser against members of the Philippine Coast Guard in the vicinity of Ayungin Shoal.
"Recalling the President's guidance that the Philippines will not give up an inch of its territory, Senior Undersecretary Galvez underscored that the Department will steadfastly uphold its mandate of protecting the country's territorial integrity, sovereignty, and sovereign rights," Andolong said.
During the phone call, both Austin and Galvez exchanged views and updates on recent security developments and explored opportunities to work together in addressing common security challenges.
"Senior Undersecretary Galvez and Secretary Austin also agreed to expand cooperation with like-minded partners in the region, and emphasized the importance of keeping the Philippines-US alliance strong in order to maintain a free and open Indo-Pacific region," the DND spokesperson said.
Andolong said the interaction between the two defense officials ended with "a hope to continue discussions during the upcoming Two-Plus-Two Ministerial Consultations sometime this year." (PNA)