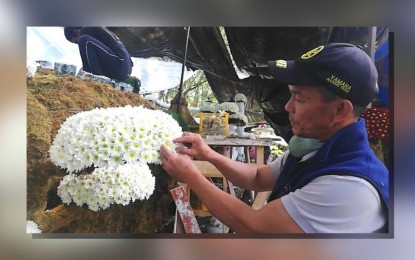 BAGUIO CITY – Aside from the usual good vibes and fun it brings, the Panagbenga festival also gives people like floral designer Romy Chua an opportunity to support local farmers in the city and other parts of Benguet province.
"We get the flowers directly from the farmers of Benguet and in Baguio. We go directly to the flower farms to talk to the farmers and not just to one person or company because we want that there will be more farmers providing the flowers needed, benefiting more small farmers," said Chua, who is overseeing the creation of at least 10 flower floats that will be paraded on Feb. 26 during the festival's Grand Float Parade.
As of Thursday, at least 24 floats have been confirmed to be participating in Sunday's event, parading from the Panagbenga Park to the Melvin Jones football field.
A University of the Philippines Los Banos graduate of agriculture who obtained his landscaping and floral designing skills abroad, Chua said he prefers locally grown flowers over imported ones.
"We opted to use the local flowers because it is our way of supporting the local industry, our local flower farmers that can be converted to exquisite looks by incorporating the flowers with the twigs and greens which is the concept of float and floral designing," he said.
Chua said technical skills welding and carpentry are also needed in making the structural part of the float which usually take at least 20 days to finish.
"We have women and others from our village who are tapped in float making who have been trained with the basics of design. They know what to do because they have been trained by experience," Chua added.
Chua also serves as a barangay councilman of Country Club Village here.
Aside from helping the local flower industry, Chua said members of his team have also benefitted from working on Panagbenga floats, eventualy landing jobs abroad as floral designers and hotel staff.
"They are not college graduates, not professionals but were willing to be trained. Once they learn, they hone the trade and create their identities giving them the chance of foreign employment," he said.
"They started without knowledge but were willing to learn and they have achieved more than what I have attained," he said.
Chua said one of them even became the personal floral designer of a sheikh in Dubai.
Also participating are the city government and the Department of Tourism, which will be sending non-competition floats. The Baguio Country Club, meanwhile, will be fielding two floats and SM Baguio are hall of Famers.
The competing entries in the small float category are Converge, The Fraternal Order of the Eagle, EEVOR skin depot, Mang Inasal, Solid North, Palawan Express, Province of Benguet, Unilever Philippines, and Zaparita's garden.
The big float category competitors are Avilon Zoo, Camo John Hay Leisure, Coca-Cola Philippines, Ikea Philippines, IPI, Jollibee Foods Corporation, Sitel Philippines, and TIEZA. (PNA)