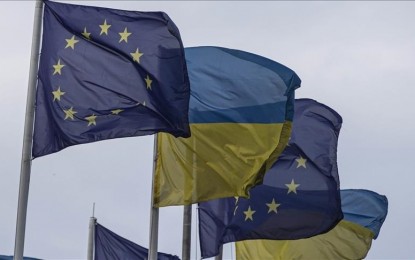 BRUSSELS – European Union (EU) leaders reaffirmed Thursday their support for Kyiv as they marked the first anniversary of Russia's war against Ukraine.
"The European Union will continue to support Ukraine in political, economic, humanitarian, financial and military terms, including through swift coordinated procurement from European industry," the European Council, the EU body composed of heads of state and government, wrote in a statement.
EU leaders pledged support for Ukraine's reconstruction which can involve the use of frozen Russian assets.
They also backed accountability for war crimes as "Russia has systematically targeted civilians, destroyed cities and attacked Ukrainian identity."
The leaders promised to increase diplomatic pressure on Moscow and soon adopt the bloc's 10th sanction package.
Referring to Ukraine's EU membership bid, the statement confirmed that the country "belongs to the European family," and asserted that "all Ukrainians deserve to live in peace and choose freely their own destiny."
EU leaders said they will "make sure that Ukraine prevails," territorial integrity is restored and "Ukraine is rebuilt, and that justice is done."
"Until that day, we will not rest," the statement added.
On Feb. 24, 2022, Russia launched its "special military operation" in Ukraine which has resulted in the deaths of at least 8,006 civilians and 13,287 injuries, according to United Nations figures. (Anadolu)