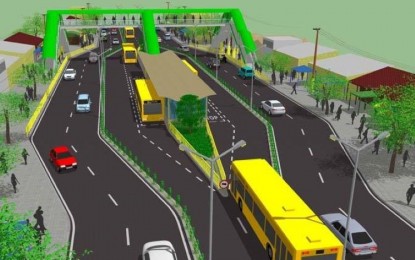 CEBU CITY – President Ferdinand Marcos Jr. and officials of the Department of Transportation (DOTr) are invited to lead the groundbreaking ceremony of the Cebu Bus Rapid Transit (CBRT) project on Monday.
Engr. Norvin Imbong, CBRT project manager, said Friday the ceremony will officially kick off the civil works for the four stations under package 1 of phase 1 of the project, which traverses 2.38-kilometer existing roads from the South Bus Terminal in Natalio Bacalso Ave. to the Cebu Provincial Capitol along Escario St. here.
"There will be construction activities after the groundbreaking ceremony. Motorists can still use the roads during the construction stage of the passenger stations because the construction activities will be done in the (existing) center islands," Imbong told the Philippine News Agency in an interview.
Eduardo Montealto Jr., Land Transportation Franchising and Regulatory Board-Central Visayas regional director, said the CBRT project, a bus service with dedicated routes or priority lanes traversing a 13.8-kilometer from South Road Properties through Mambaling to IT Park, is expected to decongest roads in Cebu City and at the same time give commuters faster alternative transportation to and from their schools, workplaces and establishments.
"It will decongest the roads because, by the time the CBRT becomes operational, it will significantly contribute to the efficient and systematic public transport. Once we have an efficient public transport system, people will no longer bring their private cars to the city (and) to ride the BRT buses," Montealto said in a separate interview.
Under the project, buses will run on a dedicated lane on the center-most lanes, one in each opposite direction, while the rest of the lanes will be opened for mixed-use traffic.
For the almost PHP1-billion CBRT Package 1 project, the contract was awarded after bidding to a Chinese contractor, Hunan Road and Bride Construction, in November last year.
The bidding for the second phase of the CBRT project is expected to happen this year.
The entire project which costs PHP16.3 billion will be fully operational in 2025.
DOTr Secretary Jaime Bautista and officials from LTFRB and Office of the Transport Cooperative are also expected to grace the event on Osmeña Blvd. here.
Meanwhile, Imbong said DOTr would address the concern raised by Governor Gwendolyn Garcia that some provincial government-owned lots will get affected by the CBRT project.
Garcia said these government-owned lots may seek compensation from the agency. (PNA)