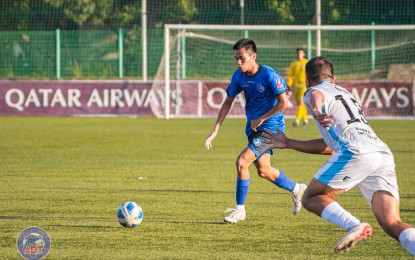 MANILA – The Azkals Development Team (ADT) added to the frustrations of winless Maharlika Manila with a 4-1 win in the Philippines Football League battle at Rizal Memorial Stadium in Manila on Saturday night.
Andres Aldeguer fired a brace which turned out to be the deciding goals as the ADT escaped an early upset threat.
Dennis Chung opened the scoring in the 14th minute, converting on a low cross from Oli Bias.
Maharlika Manila equalized in the 19th minute after Endo Ndour won the ball against two defenders off a long pass and slotted a rocket in.
Then came Aldeguer's first shining moment, a header off a cross right at the final play of the first half to make it 2-1.
He converted again off the cross in the 72nd minute after drilling in a powerful shot from inside the box, although he requested to be substituted after hurting his right hamstring.
Substitute Patrick Grogg put the icing on the cake for the ADT after scoring on a putback from point-blank range in the 83rd minute.
The ADT momentarily broke a tie with Stallion Laguna for solo third place on points with 18, but the latter has a chance to reestablish the deadlock if it beats Dynamic Herb Cebu on Sunday at the Biñan Football Stadium.
Maharlika Manila, on the other hand, remains winless with only one point to show at the start of the third round. (PNA)