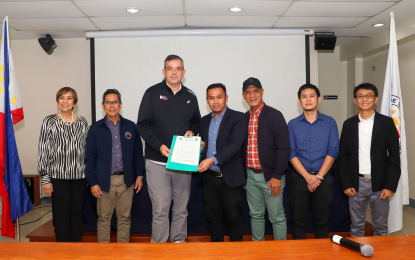 MANILA – A delegation of the Bangsamoro Sports Commission (BSC) met with the Philippine Sports Commission (PSC) board on Monday, seeking to work hand-in-hand with the national sports agency in terms of strengthening its grassroots program in the Bangsamoro Autonomous Region in Muslim Mindanao (BARMM).
The BSC, headed by Arsalan Dimaoden, presented a 12-point agenda with the PSC which include close cooperation on sports facilities development, health and wellness in BARMM, grassroots and youth sports, sports education, human resource development, a continuation of the Sports for All program through the conduct of PSC's Laro't Saya sa Parke (LSP), elite sports identification and support, traditional sports and games preservation and promotion, ensuring gender and equality in sports, sports linkages and collaboration, sports tourism and sports competitions.
"It is our earnest understanding that we can utilize sport as a realization for the development of Mindanao and the country," said Dimaoden, who was accompanied by his commissioners and consultant during the hour-long meeting in the PSC Conference Room at the Rizal Memorial Sports Complex in Manila.
PSC Chairman Richard Bachmann expressed his support for the proposal and batted for unity between the two sports agencies saying, "I would like to consider us as one group as we are focused on the Filipino athletes. Let us find the athletes sa bawat parte ng Pilipinas (in every area of the Philippines). This is what I want to push in my term together with our Board of Commissioners."
"Let us work together to build facilities not only for popular sports but also for other sports throughout the country. We also need to align the grassroots programs for the stakeholders such as the NSAs, BSC and other individuals who have ideas regarding grassroots sports development in the country," he added.
PSC Commissioners Walter Torres and Olivia "Bong" Coo also expressed support and possible collaborations with the BSC.
"The PSC can send a team to conduct a feasibility study for the sports facilities development in the region and ask that accessibility for para-athletes be observed for the building of the facilities," Torres said.
"I offer our programs Laro ng Lahi and Women in Sports programs to be conducted in BARMM. There is a need to increase the inclusion of more girls in grassroots programs," Coo, for her part, said.
Aside from Dimaoden, the BSC was represented by Commissioner of Maguindanao Nu-man C. Calutiag, Tawi-Tawi Commissioner Abdulkhabir Musa, Basilan Commissioner Yushoup Sario, Executive Director Salihwardi Alba, Consultants Prof. Henry Daut of the Mindanao State University (MSU) and Ateneo de Davao University Athletics Director and Mindanao Peace Games Founder and Convener Noli Ayo. (PNA)