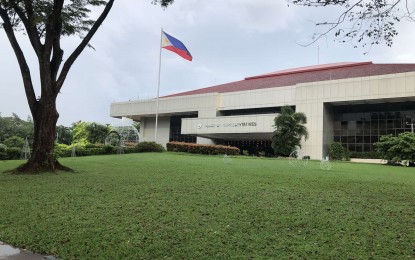 MANILA – A measure proposing to provide temporary employment for qualified members of poor households in rural areas hurdled committee level at the House of Representatives.
During the hearing on Monday, the House Committee on Rural Development, chaired by Masbate Rep. Wilton Kho, approved the substitute bill providing for a Rural Employment Assistance Program (REAP).
TINGOG Party-list Reps. Yedda Marie Romualdez and Jude Acidre, authors of House Bill 1957, said the proposed measure is in line with the declared policy of the State to promote a just and dynamic social order that will ensure the prosperity and independence of the nation and free the people from poverty through policies that provide adequate social services, promote full employment, a rising standard of living and improved quality of life for all.
"This bill seeks to address the growing unemployment rate in the country, to uplift the lives of the workers and their families and to spur economic growth," they said.
Camarines Sur Rep. Luis Raymund Villafuerte Jr., author of House Bill 1788, said this temporary work-for aid initiative for qualified heads of family or unmarried adults will not only help address the unemployment problem, but will also spur agricultural and infrastructure development in the rural areas.
Kho, meanwhile, said there is a need to institutionalize assistance programs, such as the REAP, to help marginalized families in rural areas.
"Kahit na may mga programa na po ang mga departments natin, ang ginagawa po natin ngayon is to institutionalize these programs. Kaya nag-ooverlap 'yong mga programs, may mga duplications ng programs, dahil hindi pa institutionalized (Even though the departments already have existing programs, what we are doing right now is institutionalizing these programs. That's why there are overlaps or duplications of programs because they are not institutionalized yet)," he said.
Under the bill, the Department of Social Welfare and Development (DSWD), in coordination with other concerned agencies and local government units, shall be mandated to provide temporary employment to every qualified head of the family in rural areas who volunteers for unskilled manual labor.
The types of works and activities under the program include the development, rebuilding, or rehabilitation of agri-based livelihood assets damaged, destroyed or lost due too natural disasters.
It would also involve the development or rehabilitation of common service facilities, physical assets to open up access to areas necessary to transport rural products; as well as the protection of natural and productive assets through mitigation and disaster risk reduction measures.
The REAP would also include social community projects such as repair, maintenance and improvement of common public facilities and infrastructure such as schools and health centers, debris cleaning, declogging of canals, debris segregation and materials recovery, stockpiling and clearing.
DSWD Disaster Risk Management Division chief Imee Rose Castillo said the proposed REAP is similar to their cash-for-work program which provides short-term income opportunities for economically poor and climate and disaster-vulnerable families and communities in exchange for community work. (PNA)