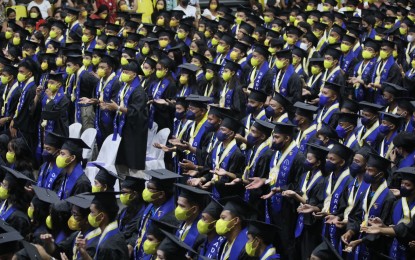 MANILA – The House Committee on Higher Education and Technical Education has approved a bill seeking a one-time cash grant of PHP5,000 to fresh college graduates who are looking for a job.
House Deputy Speaker and Las Piñas Representative Camille Villar on Monday lauded the panel members for passing House Bill (HB) 6542 or "Act Providing fresh graduates of Philippine tertiary education, universities, colleges and training institutions, of a one-time cash grant of PHP5,000" which she authored.
"This is an assistance to graduates, an encouragement as they become part of the workforce which is very relevant at this time. They can also utilize the amount, small it may be, in commencing a micro business or a start-up enterprise," Villar said in a statement on Monday.
But while the state agencies unanimously agreed on the importance of the measure, some of them suggested minor amendments to improve the bill.
Nueva Ecija Rep. Mikaela Angela Suansing suggested to include a provision that the method to disperse the cash grant should be coursed through ATM.
Under the measure, an interagency monitoring committee will be created to be headed by the chairperson of the Commission on Higher Education (CHED). The body will formulate the implementing rules and regulations and monitor compliance by the various state agencies and instrumentalities.
During the committee hearing on Feb. 20, a CHED representative said there were some 345,000 graduates in both public and private higher educational institutions in the 2020-2021 school year.
The bill provides requirements for graduates to avail of the grant. These are copy of diploma or any valid proof of graduation issued by the educational institution shall be presented to the government agency or local government concerned, and the proof of graduation should clearly state the date of graduation or completion and the course completed or degree earned, and should be signed by the institution's duly authorized representative.
"This is not a dole-out but should be viewed as an investment of the government to the youth, fully consistent with our Constitution, and the nation's existing laws on social welfare," Villar said. (PNA)