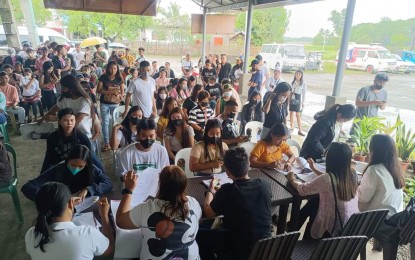 SAN JOSE DE BUENAVISTA, Antique – The Antique Provincial Youth Development Office (PYDO)- on-wheels has released PHP57,426,000 in educational assistance to 11,443 college and graduate school students.
PYDO head Irish Manlapaz, in an interview Monday, said college students received PHP5,000 each while graduate school students got PHP6,000 each from the PYDO-on-wheels or bus manned by 10 to 12 staff who facilitated the release since January.
"We still have a remaining 8,116 students who are set to be distributed with the assistance, hopefully by March," she said.
Manlapaz said the remaining students were late in submitting the required registration forms or proofs of enrolment.
A total of 19,559 students have applied for educational assistance from the 18 municipalities of the province since Sept. 2 last year.
The assistance is intended to help them in buying books and other school needs for the first semester of the 2022-2023 school year.
"We appeal to those who were able to receive their educational assistance to use it properly to help them in their schooling," she said. (PNA)