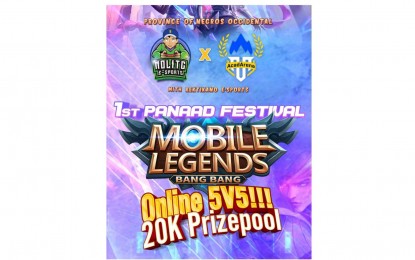 BACOLOD CITY – The provincial government-run Negros Occidental Language and Information Technology Center (NOLITC) has partnered with campus gaming institution AcadArena Technologies to promote esports education among public schools in the province.
Ma. Cristina Orbecido, vocational school administrator of NOLITC, said on Monday both parties have entered into a memorandum of understanding (MOU) to formalize the collaboration.
"The program commences after we signed the MOU. We will invite all public schools in the province to participate," Orbecido told the Philippine News Agency (PNA).
The signing rites, held recently at the provincial capitol here, were led by Governor Eugenio Jose Lacson and AcadArena Chief Strategy Officer Mark Garvey Candella.
"This is the first time we have partnered with this kind of institution. Esports is a growing industry across the globe and there's a lot of opportunities for esports enthusiasts," Orbecido said.
"We also wanted to eliminate the stigma on esports. It's more than just play," she added.
NOLITC's collaboration with the AcadArena, considered the leading organization for campus gaming and esports education in the Philippines and Southeast Asia, covers three campaigns -- Digital Literacy, Digital Citizenship and Innovation.
The program mainly aims to empower students and allow them to collaborate, learn, and develop important skills needed around the growing esports and gaming industry across the globe.
As a kick-off event, the NOLITC and AcadArena will stage the 1st Panaad sa Negros Festival Mobile Legends: Bang Bang Online 5v5 Tournament, with a prize pool of PHP20,000, this coming April.
"Before this event, we will already start with the webinars and trainings," Orbecido said.
"Through this program, we will hone young gamers in Negros Occidental to be leaders, entrepreneurs, start ups, content creators, marketing experts, among others," she added. (PNA)