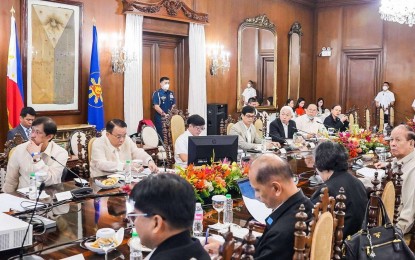 MANILA – President Ferdinand R. Marcos Jr. convened Tuesday a sectoral meeting with the Department of Agriculture (DA) to discuss convergence strategies to achieve "wealth production" in Philippine agriculture, Malacañang said Tuesday.
During the meeting at Malacañan Palace, the DA officials informed Marcos, the department's concurrent head, about the interventions needed to ensure food security in the country, Malacañang Press Briefer Daphne Oseña-Paez told Palace reporters.
"The DA presented to President Marcos interventions to ensure enough supply of corn, pork, chicken, fish and sugar and of course rice," Oseña-Paez said in a Palace press briefing.
"Furthermore, the meeting also tackled wealth production in agriculture by strategically implementing convergence initiatives. The National Irrigation Administration (NIA) plays a big role in this program," she added.
NIA acting administrator Eduardo Guillen, who joined the Palace briefing, noted that the National Food Security Convergence Program is a project which aims to boost the wealth creation capacity of the agriculture sector.
Guillen said the government is confident that developing agriculture is crucial in spurring growth in the country.
"Nakikita ho namin na puwede siyang mag-create talaga ng wealth. Dalawa ho ang ating pinapanukala doon na mangyayari. 'Yung pagpapa-improve ng ating irigasyon and of course 'yung pagtulong nga sa ating mga magsasaka sa pamamagitan ng pag-improve ng kanilang income (We see that [the agriculture industry] could really create wealth. We are pushing for two strategies. These include improving the irrigation and of course, helping the farmers by improving their income)," he said.
Marcos, Guillen said, wants to deliver his promise to provide timely and efficient government services to local farmers.
To attain food security, the DA also recommended the "continuous" implementation of the Integrated National Swine Production Initiatives for Recovery and Expansion (INSPIRE) Program to hasten the recovery of the hogs' sector from African swine fever.
INSPIRE Program is DA's three-year plan aimed at helping the swine industry recover faster from ASF and revive the sector, which is experiencing a major decline in production.
The recovery program will be implemented until 2023.
Addressing fisheries problem
In a video message after the sectoral meeting, Marcos said he has instructed different concerned government agencies to develop the necessary infrastructure and facilities that would help improve the country's fishery sector.
This, as Marcos bared that the government has already started formulating a plan to address the crisis in fishery production and help improve the sector.
Marcos said he has directed the Department of Trade and Industry, the Development Bank of the Philippines, the Land Bank of the Philippines, and the Cooperative Development Authority to craft the agriculture plan which focuses on the fishery sector.
"So we have started to formulate a plan to improve the fishing grounds for our aquaculture that is in land, in our rivers, and the freshwater although we have a good supply of tilapia and bangus (milkfish)," Marcos said.
"Although tinitingnan kasi ang galunggong pero ang katotohanan marami pa tayong ibang production. Now, kulang pa rin ang production natin sa fisheries kaya't kailangan natin tingnan pati 'yung tinatawag na mariculture 'yung mga isda na nasa dagat (we are looking at blue mackerel scad even though we still have many production of fish stock. Now, we still have lack of production in fisheries, that's why we are considering mariculture or cultivation of fish or other marine life for food)," he added.
Some of the DA interventions aimed at improving the production of basic agricultural commodities include the rehabilitation and modernization of fish port complexes, as well as the implementation of the agricultural and fishery machinery and equipment service center.
Marcos said his administration would exhaust all efforts to boost the fish production in the country.
"Now the benefit of that is that mabilis ang cycle sa isda (there will be fast production of fish). But we have to put the infrastructure in place. We have to put the facilities in place. So, 'yun ang una naming gagawin para to increase ang ating production ng isda (So, that's the first step to boost fish production)," he said.
Based on the 2023 Demand and Supply Outlook for Basic Commodities, the country's 3.55 million metric ton fish demand outpaces supply at 2.97 million metric tons.
It has 2.88 million metric tons projected for local production, with imports at 0.04 million metric tons.
Marcos earlier vowed to transform the Philippines as a "leading agricultural resource hub" in the world.
In a meeting with the Private Sector Advisory Council's Agriculture Sector at Malacañan on Feb. 23, Marcos sought to fast-track the digitalization of database of farmers and food balance sheet (FBS) to strengthen the country's agricultural industry.
Sugar import
Meanwhile, Senator Risa Hontiveros urged three trading firms to reveal all they know about sugar smuggling but maintained they must be blacklisted by the DA.
Hontiveros has filed Proposed Senate Resolution No. 497 seeking an investigation on All Asian Countertrade Inc., Sucden Philippines Inc. and Edison Lee Marketing Corp. for irregularities or criminal liabilities in the reported illegal importation of hundreds of thousands of metric tons of sugar.
"I urge the three companies to cooperate with all investigations over this issue. They still have time to choose not to be fully embroiled in such a brazen and outrageous conspiracy. Kung na-ipit lang sila (If they were just implicated), then they should immediately reveal to the public the individuals who may be truly responsible for the Sugar Import Fiasco 2.0," Hontiveros said in a radio interview on Tuesday.
Last week, Hontiveros bared documents that the three firms were given the go-signal to import 450,000 metric tons of sugar even without a Sugar Order from the Sugar Regulatory Administration as required by law.
She also called on her colleagues and other government agencies, to swiftly act on the issue, citing the "need to prevent the economic damage a smuggling operation of such size would cause." (With a report from Leonel Abasola/PNA)