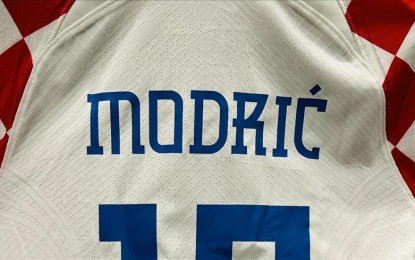 ISTANBUL – Croatia captain Luka Modric donated his 2022 World Cup match-worn jersey to earthquake victims in Türkiye, the Turkish ambassador to Zagreb said on Tuesday.
"Hello to all my Turkish friends. I just want to send you a lot of strength and prayers in these difficult moments," the national football team chief said in a video message on Twitter. "Stay strong, we are all with you and we are praying for you."
Turkish Ambassador to Zagreb Yavuz Selim Kiran thanked Modric for his solidarity as all the proceeds from the sale of the number 10 jersey, worn in the 2022 World Cup opener against Morocco, are to go to disaster victims. That match ended in a goalless draw.
Previously, Croatian central defender Josko Gvardiol and goalkeeper Dominik Livakovic had also donated their jerseys and gloves to quake victims.
A Real Madrid regular since 2012, Modric won five UEFA Champions League, four FIFA Club World Cups, three Spanish La Liga titles, and three UEFA Super Cups.
The 37-year-old also claimed a Spanish Cup and four Spanish Super Cups with Real Madrid.
Modric is a FIFA World Cup silver medalist as the Croatian national team lost to France 4-2 in the 2018 final at Moscow's Luzhniki Stadium.
NBA superstar Doncic puts shirt on auction for quake survivor children
The Dallas Mavericks' Slovenian star Luka Doncic also put his jersey up on auction to raise funds for earthquake victims.
"To aid in the sustainable education of children affected by Turkey's earthquakes, we are pleased to announce the auction of Luka Doncic's All-Star Game jersey, which he signed," Socrates Magazine said.
The closing date for the auction, run in conjunction with socratessahada.com, is March 5 at 2059 GMT.
The devastating Feb. 6 twin earthquakes have claimed more than 44,300 lives in Türkiye's southern region.
The magnitude 7.7 and 7.6 quakes, centered in Kahramanmaras province, have impacted some 13 million people across 11 provinces, including Adana, Adiyaman, Diyarbakir, Gaziantep, Hatay, Kilis, Malatya, Osmaniye, Elazig and Sanliurfa. (Anadolu)