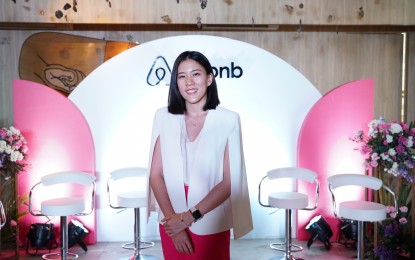 MANILA – The Philippines has been identified as Airbnb's second-largest women-powered host community in the world, with Filipinas making up 65 percent of its hosts in the country.
Mich Goh, Airbnb's head of public policy for Southeast Asia, said Tuesday that hosts who self-identify as women generated about PHP2.5 billion in 2022 alone.
"Women hosts are playing an increasingly pivotal role in the travel and tourism sector, and especially in the Philippines. We are heartened to see more and more women open their homes to travelers and provide the authentic hospitality that Filipinos are renowned for," she said.
"As more Pinays step up to lead our host communities and share hosting tips with one another, we remain committed to supporting and growing our Pinay host community and ensuring that their roles in contributing to the industry are recognized."
Goh said Airbnb's Filipino women hosts come from various backgrounds, some of whom are under 30 years old helping their parents to welcome guests, while others are mothers renting out their spaces to make additional income.
"Regardless of their background or age, it's really clear that women are leading the charge for our host community," she said.
Airbnb is an online marketplace for short-term homestays, listing available spaces where users can find and book accommodation.
Globally, Airbnb said 40 percent of its one million "super hosts" are women.
In the forum "Women in Travel," organized ahead of International Women's Day, Anne Jeaneth Casalme of the Philippine Commission on Women (PCW) emphasized the need to drive more visibility on Filipinas in the tourism industry.
She noted that the PCW "fully supports initiatives" that empower Filipinas in the sector and advocated the need to ensure their safety when traveling.
Solo travel is gaining momentum in the Philippines and half of those who booked on its platform in 2022 were also women, according to Airbnb.
"Women are also bringing their families on trips to discover new destinations and the joy of travel and more of them are becoming travel entrepreneurs," Goh said. "They are reclaiming roles and opportunities in the travel space that were traditionally occupied by men so it's really truly an exciting time for women in travel."
She said in the Philippines, Cebu City, Lapu-Lapu City, El Nido, and Coron have been some of the "trending destinations" since travel restrictions eased. (PNA)