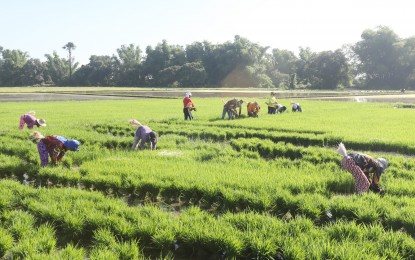 MANILA – President Ferdinand R. Marcos Jr. has announced that his administration would introduce the use of biofertilizers to farmers to reduce their dependence on expensive and imported petroleum-based fertilizers.
This developed after he presided over a sectoral meeting with the Department of Agriculture (DA) and other concerned agencies at Malacañan Palace in Manila on Tuesday.
In a video message released by the Presidential Communications Office (PCO) on Wednesday, the President said farmers would undergo training on how to use biofertilizers.
"We are totally dependent on petroleum-based fertilizer. Now, we are going to introduce biofertilizer to our farmers and teach them how to use it. And hopefully, this will ease our concerns when it comes to the supply of fertilizer. And we can fully control the availability of biofertilizer," Marcos, who also serves as DA head, said.
Biofertilizers are natural fertilizers consisting of living microorganisms. Its use supports the growth of plants by increasing the nutrient supply in soils.
Marcos said biofertilizers would be used as an alternative because of the high price of common fertilizers and concerns on their availability.
He noted that DA trials on biofertilizers have shown "promising" results.
"Kayang-kaya daw dito i-produce sa Pilipinas 'yan (We can easily produce that here in the Philippines). And furthermore, there are many technologies from UPLB (University of the Philippines - Los Baños), from the other SUCs (state universities and colleges), the agricultural colleges. Marami silang na-research, na-develop na technologies diyan sa biofertilizer (They have conducted research studies and developed technologies for biofertilizer)," he said.
Marcos, however, clarified that farmers could still use non-organic and petroleum-based fertilizers, especially urea.
"Now, there will still be a mix. Hindi mawawala 'yung urea, hindi mawawala 'yung mga non-organic (Urea and non-organic fertilizers will still be used). But we will lessen our dependence on importation when it comes to fertilizer supply," he said.
To recall, Marcos' state visit to China in January led to the signing of business agreements with Chinese producers to reduce the prices of fertilizer, a vital part of his administration's bid to help farmers and ensure food security.
Two Chinese fertilizer manufacturing firms signed a cooperation agreement with the Philippine International Trading Corp., which was seen to ensure a sustainable supply of fertilizers at reasonable prices. (PNA)